John Harbison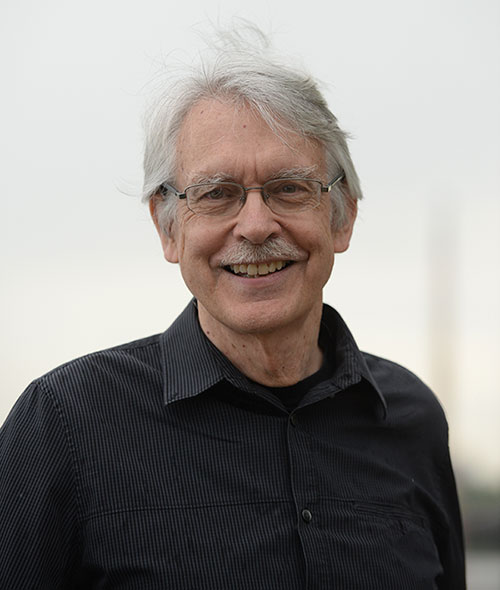 Composer John Harbison's concert music catalog of almost 300 works is anchored by three operas, seven symphonies, twelve concerti, a ballet, six string quartets, numerous song cycles and chamber works, and a large body of sacred music that includes cantatas, motets, and the orchestral-choral works Four Psalms, Requiem, and Abraham. He also has a substantial body of jazz compositions and arrangements. Harbison has received commissions from most of America's premiere musical institutions, including the Metropolitan Opera, Chicago Symphony, Boston Symphony, New York Philharmonic, and the Chamber Music Society of Lincoln Center. As one of America's most distinguished artistic figures, he is recipient of numerous awards and honors, among them a MacArthur Fellowship and a Pulitzer Prize.
The 2018-2019 season marked Harbison's 80th birthday with celebrations throughout the country and around the world, including major city-wide celebrations in his two home-towns of Boston, Massachusetts and Madison, Wisconsin. The season included first performances of three major works: the monodrama If (Boston Musica Viva, the Santa Fe Chamber Music Festival, and the Chamber Music Society of Lincoln Center), the organ symphony What Do We Make of Bach? (Seattle Symphony and the Minnesota Orchestra & Northrup Hall), and the Sonata for Viola and Piano (commissioned by a secret admirer for a consortium of seven violists). Summer festival residencies included Songfest, Tanglewood, Aspen and Santa Fe.
Widely recorded on leading labels, recent CD releases include Remembering Gatsby (National Orchestral Institute Philharmonic, Naxos), Violin Sonata No. 1 (Cho-Liang Lin, Naxos), Late Air (Kendra Colton, Oberlin), Simple Daylight and Piano Sonata No. 2 (Lucy Fitz Gibbon and Ryan McCullough, Albany), String Quartet No. 6 (Lark Quartet, Bridge), Requiem (Nashville Symphony, Naxos), Vocalism (Mary Mackenzie, Albany), and his cadenzas to Beethoven's fourth piano concerto in G major (David Deveau, Steinway). Harbison's first book, What Do We Make of Bach: Portraits, Essays, Notes was published in late 2018 (ARS Nova). He recently penned a collection of jazz essays and is working on a new series of composer reminiscences.
The 2019-20 season saw the consortium premiere of the monodrama If (March, Chamber Music Society of Lincoln Center) just before the Covid-19 disruption. Premieres postponed due to the pandemic include two new song cycles, In the Early Evening and Four Poems for Robin (Songfest), Mark the Date (Aspen Music Festival), Sleepers Wake, for the Leipzig BachFest, and Passage (Shai Wosner, The Peoples' Symphony).
Harbison's most recent projects include new choral music (Hidden Paths, Frost settings for childrens' choir) and Cold or Hot (on a passage from Revelations). He also completed Chaconne (for big band), Piano Sonata No. 3, an evolving suite for solo violin, Prelude for Organ, the song cycles Afternoons and Early Evenings (Glück) and After Long Silence (Yeats), and numerous short piano works. He is at work on a new piece for Earplay, a contribution to Min Kwon's America/Beautiful project, the 2022 competition piece for the International Violin Competition of Indianapolis, a 50th-anniversary piece for Collage New Music, and a second volume of pop and jazz songs. His opera The Great Gatsby is due for major revival in 2025, an important anniversary year for both Fitzgeralds' book and the opera's premiere.
Harbison has been composer-in-residence with the Pittsburgh Symphony, Los Angeles Philharmonic, American Academy in Rome, and numerous festivals. He received degrees from Harvard and Princeton before joining the Massachusetts Institute of Technology, where he is currently Institute Professor, the highest honor accorded resident faculty. For many summers since 1984 he taught composition at Tanglewood, serving as head of its composition program from 2005 to 2015, often directing its Festival of Contemporary Music. With Rose Mary Harbison, the inspiration for many of his violin works (Violin Concerto, Four Songs of Solitude, Crane Sightings, Violin Sonata No. 2), he has been co-Artistic Director of the annual Token Creek Chamber Music Festival since its founding in 1989. He continues as principal guest conductor at Emmanuel Music (where for three years he served as Acting Artistic Director), and he is a past music director of Cantata Singers. An accomplished jazz pianist, Harbison founded MIT's Vocal Jazz Ensemble in 2010, for which he served as coach and arranger, and he is pianist with the faculty jazz group Strength in Numbers (SIN).
Harbison has been President of the Copland Fund and a trustee of the American Academy in Rome. He is a member of the American Academy of Arts and Letters and is a Trustee of the Bogliasco Foundation. His music is published exclusively by Associated Music Publishers.
John Harbison: On the Cusp of a World Premiere
Thursday, September 15, 2022 | 5:30 PM
Eidson-Duckwall Recital Hall
4600 Sunset Avenue | Butler University
MacArthur Fellow and Pulitzer-Prize Winning Composer John Harbison is globally renowned as one of the most revered composers of the 20th and 21st centuries. On the eve of the World Premiere of Incontro, the 2022 IVCI Commissioned work, Harbison will share his inspiration behind his compositions, which have spanned over seven decades.
FREE TO THE PUBLIC