Pavel Berman, Russia – Gold Medalist
Photo credit: Giovanni
Pavel Berman attracted much attention when he won the First Prize and Gold Medal at the International Violin Competition of Indianapolis in 1990. He was born in Moscow, where he studied at the Tchaikovsky Conservatory. At the age of seven Mr. Berman made his public debut. At the age of seventeen, he won the Second Prize at the 1987 Paganini International Violin Competition in Genoa, Italy. While performing internationally, in 1992 he moved on to study with Dorothy DeLay at The Juilliard School in New York and later with Isaac Stern. Mr. Berman has performed with the Indianapolis Symphony, the Atlanta Symphony, the Dallas Symphony, the Prague Symphony, the Liverpool Royal Philharmonic, the Beijing Philharmonic, the Staatskapelle Dresden, the Berliner Symphoniker. Pavel Berman has reached audiences at Carnegie Hall in New York, Théâtre des Champs Elysées and Salle Gaveau in Paris, Herkulessaal in Munich, Auditorio Nacional in Madrid, Bunkakaikan in Tokyo, Teatro alla Scala in Milan, and Palais des Beaux Arts in Brussels. From 1998 to 2006 Berman served as Musical Director of the "Kaunas Symphony Orchestra" in Lithuania. In 2009-2010 Mr. Berman appeared as a soloist and conductor with such orchestras as the Mantua Chamber Orchestra, Toscanini of Parma, Genoa Theatre Orchestra, "Moscow Virtuosi," Moscow Symphony Orchestra, Prague Philarmonie Orchestra, Romanian National Radio Orchestra, Portuguese National Symphony Orchestra, Wurtembergische Philharmonie Orchestra, as well as with a number of Russian and Italian orchestras. Among the other projects, Mr. Berman performed a recital tour in Japan in 2010-2011 as well as a tour in Italy as a soloist and conductor with the Mantua Chamber Orchestra. He also appeared as a soloist with "La Fenice" Orchestra of Venice under Yutaka Sado and as a conductor with Orchestra RAI of Turin. After recording the Prokofiev Violin Sonatas and 5 Melodies with pianist Vardan Mamiconian, Mr. Berman completed a Prokofiev project with "Dynamic" by recording both violin concertos with Radio Orchestra of Lugano under Andrei Boreiko. He also recorded a Schumann sonata with Alexander Mikhailuk, works by Bloch and Shostakovich with Anne Epperson, and the Mozart and Beethoven Sonatas with his father Lazar Bermann. Mr. Berman also recorded a video rendition of Paganini 24 Caprices in double version: for violin solo on Guarneri del'Gesu ex-Cesoul and a exclusive Violin and String Orchestra version by Giedrius Kuprievicius on Stradivari "Marèchal Berthier." Mr. Berman has recorded for Koch International, Audiofon, Discover, Supraphon and Phoenix Classics and Dynamic. Mr. Berman performs on Antonio Stradivari violin "Marèchal Berthier," Cremona 1716 'ex Napoléon' lent to him by the Pro Canale Foundation, Milan.
---
Marco Rizzi, Italy – Silver Medalist
A prize-winner at three of the most prestigious international violin competitions – the Tchaikovsky Competition in Moscow, Queen Elizabeth in Brussels and the Indianapolis – Marco Rizzi has soon been recognised as one of the most interesting young violinists of his generation and was awarded the Europäischen Musikförderpreis on the recommendation of Claudio Abbado.

Marco Rizzi is regarded as one of the most appreciated musicians from Italy. He regularly appeared in leading concert halls such as Teatro alla Scala in Milan, Salle Gaveau and Salle Pleyel in Paris, Lincoln Center in New York, the Concertgebouw in Amsterdam, the Philharmonic Society of Brussels, the Great Hall of Moscow Conservatory, the Hamburger Musikhalle, the Berlin Konzerthaus and the Tivoli of Copenhagen. He worked with such notable conductors as R. Chailly, G. Noseda, A. Ceccato, P. Eötvös, V. Jurowski, S. Denéve, G. Neuhold and was soloist with orchestras such as the Staatskapelle Dresden, Indianapolis Symphony Orchestra, Netherlands Chamber Orchestra, Royal Liverpool Philharmonic, Hong Kong Philharmonic, Orchestre de Concerts Lamoureux, Rotterdam Philharmonic, Orquesta RTVE of Madrid, BBC Scottish, Netherlands Philharmonic, Orchestra Sinfonica di Milano 'G.Verdi', Radio Chamber Orchestra Holland, and many others.

Rizzi resides in Germany, leading an international class first at the Hochschule für Musik -Detmold (Germany) (1999 -2008). In October 2008 he was appointed at the Hochschule für Musik in Mannheim and since September 2007 he is also professor at the renomated Escuela Superior de Musica Reina Sofia in Madrid. His students have been prize-winners in important international competitions. He is also regularly serving as juror in some of the most prestigious violin competitions, such as the Queen Elisabeth Competition (Bruxelles), the Joachim Violin Competition (Hannover) or the Paganini Violin Competition (Genova).

Rizzi plays on the "Baron Knoop" 1743 violin by Pietro Guarneri, owned by the foundation "Il Canale" ONLUS.
---
Ivan Chan, United States – Bronze Medalist
Photo credit: Hui Ching Hsu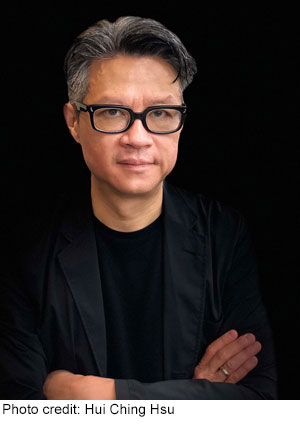 Ivan Chan was born in Hong Kong, where he received his early training with Thomas Wang. He made his debut with the Hong Kong Philharmonic at the age of 13. Shortly thereafter, he continued his studies in the United States with Jascha Brodsky, David Cerone, Felix Galimir and Jaime Laredo at the Curtis Institute of Music, and with Miriam Fried at Indiana University. Winner of the Julius Stulberg Auditions in 1985, Radio Television Hong Kong Young String Player of the Year award in 1985, Ima Hogg Young Artists Auditions in 1990, Bronze Medalist of the International Violin Competition of Indianapolis in 1990, and Second Prize as well as Audience Prize at the Washington International Competition in 1991, Mr. Chan has appeared as soloist with orchestras including the Detroit Symphony, Indianapolis Symphony, New World Symphony, Houston Symphony, and the Hong Kong Sinfonietta. As a chamber musician, he toured regularly with "Musicians from Marlboro" and has collaborated with artists such as Jaime Laredo, Gil Shaham, Joshua Bell, Ida Kavafian, Pamela Frank, Garrick Ohlsson, Jeremy Denk, Cho-Liang Lin, Robert Chen, and with members from ensembles including the Guarneri String Quartet, Orion String Quartet, Emerson String Quartet, Johannes String Quartet, Kalichstien-Laredo-Robinson Trio, Beaux Art Trio, Opus 1, TASHI, and Lincoln Center Chamber Music Society. As a visiting artist, Mr. Chan has given masterclasses, individual lessons, and chamber music coachings at the Curtis Institute of Music, Settlement Music School, Temple University, Cleveland Institute of Music, University of Missouri in Kansas, Western Michigan University, and Encore School for Strings. In 2011, he was named Senior Lecturer in String Chamber Music at the Hong Kong Academy of Performing Arts. Previously, he served as artist in residence at the Hartt School, Florida International University, New World School of the Arts, and the Hugh Glauser School of Music at Kent State University. In 2008, Mr. Chan was appointed Chairman of the String Division at the Kent/Blossom Music Festival. He has served on the jury panel of competitions including Julius Stulberg Auditions, Annual Concerto Competition of the New World Symphony, and 1st Shing Hai National Viola Competition. From 1995 to 2011, Mr. Chan was first violinist of the acclaimed Miami String Quartet. The Cleveland Plain Dealer stated "In Ivan Chan, the group (Miami String Quartet) has a prodigious first violinist whose tonal sweetness is matched by impeccable taste, purposeful energy and an unerring sense of phrasing." With the Miami String Quartet, he toured extensively in North America and Europe. Regularly featured on the nation's premier chamber music series, their performances have been heard from the stages of Alice Tully Hall, Carnegie Hall, Verizon Hall, Severance Hall, and Kennedy Center, among others. The Miami Quartet made numerous appearances on premier live radio programs including National Public Radio's "St. Paul Sunday Morning," and "Performance Today." He was a member of the screening committee of the 2010 and 2014 International Violin Competition of Indianapolis. Mr. Chan and the Miami String Quartet have recorded for the BMG/Conifer, Music Heritage, and CRI labels. His instrument is an Antonio Stradivarius violin dated 1723, the "Spanish."
---
Virginie Robilliard, France
Photo credit: Christophe Depierre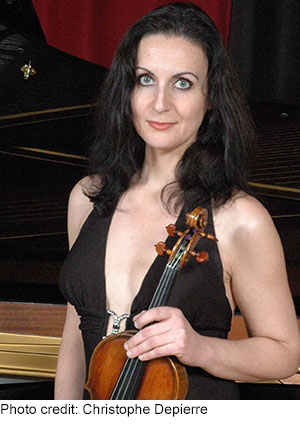 Young Laureate of the Long-Thibaud International Violin Competition and the International Violin Competition of Indianapolis, including special prizes for the best performances of Bach's Chaconne and Rochberg's Rhapsody and Prayer, Virginie Robilliard has performed with orchestras such as the St. Petersburg Symphony Orchestra, the Orchestra Philarmonique de Radio-France, the Simon Bolivar Orchestra, the Indianapolis Symphony Orchestra, Bogotá Philharmonic Orchestra, the Orchestre du Capitôle de Toulouse, Salta Symphony Orchestra in Argentina, Orquesta Sinfónica de Venezuela, and San Salvador de Bahía Symphony Orchestra in Brazil under the batons of Yuri Temirkanov, Sergiu Comissiona, Raymond Leppard, Olivier Grangean, Pascal Verrot, Yutaka Sado, Michel Plasson, Pierre Dervaux, Eduardo Diazmuñoz, Eduardo Marturet, Carlos Izcaray, Fabio Mechetti, Felipe Izcaray, and Ricardo Castro among others. Ms. Robilliard made her New York debut at the age of 19, in a critically acclaimed performance (The New York Times) of Bartók's Violin Concerto No. 2, conducted by Stanislaw Skrowaczewski at Avery Fisher Hall. Miss Robilliard's international career has included appearances in Asia, South America, Europe, Canada, and the United States in major halls such as Carnegie Hall, the Salle Pleyel, the Teresa Carreño Theater, and the Théâtre des Champs-Elysées. She is regularly invited to give master classes all over the world. Her interest to present contemporary music has brought Ms. Robilliard, with the sponsorship of the Beracasa Foundation, to commission a Sonata for Violin Solo to a brilliant Venezuelan composer, Paul Desenne. The piece was created in Caracas (1998) and London (1999). More recently, she created his "2 seasons" for chamber orchestra and violin solo, also critically acclaimed by The New York Times in 2008. In her first CD released by the XCP label, she is joined by her brother, pianist and composer Bruno Robilliard, performing Sonatas by Fauré, Schumann, and Robilliard. In 2006, her "live" DVD with Brahms and Tchaikovsky's violin Concertos was released with the Orquesta municipal de Caracas conducted by Rodolfo Saglimbeni. In 2010, Hungaroton's label released her trio's CD with Frédéric-Vaysse-Knitter at the piano and Peter Czabo at the cello, featuring works by Brahms and Dvořák. Born into a family of musicians, Ms. Robilliard gave her first public concert at the age of five. She was awarded First Prize by the Conservatoire National Supérieur de Musique de Lyon at seventeen as a student of Jacques Ghestem, and she graduated from The Juilliard School in 1993 as a scholarship student of Dorothy DeLay. From 2001 to 2008, Ms. Robilliard, thanks to the Mozarteum Foundation, created a violin school in Caracas, Venezuela, where several of her young talented students were later accepted in European conservatories such as the CNSM in Paris, the Tibor Varga school, Hans Eisler Music School, and Geneva conservatory.
---
David Kim, United States
Photo credit: Allie Skylar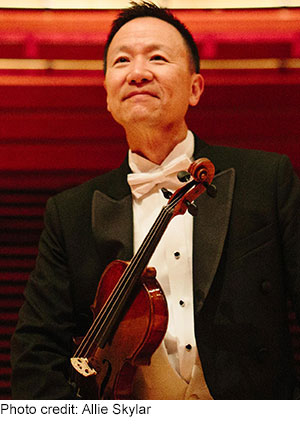 Violinist David Kim was named Concertmaster of The Philadelphia Orchestra in 1999. Born in Carbondale, Illinois in 1963, he started playing the violin at the age of three, began studies with the famed pedagogue Dorothy DeLay at the age of eight, and later received his bachelor's and master's degrees from The Juilliard School.

Highlights of Mr. Kim's 2017-18 season include appearing as soloist with The Philadelphia Orchestra under the baton of Music Director Yannick Nézet-Séguin during both subscription and summer seasons; teaching/performance residencies at the Manhattan School of Music, Bob Jones University, Haverford College, Swarthmore College, and continued appearances as concertmaster of the All-Star Orchestra on PBS stations across the USA and online at the Kahn Academy; a solo performance on a soon-to-be-released CD with the Westminster Choir; as well as recitals, speaking engagements, and appearances with orchestras in Korea and across the United States, including a Brahms Festival (complete Sonatas and Concerto) with the Fairbanks Symphony in Alaska.

This season, Mr. Kim has appeared as a guest with famed modern hymn writers Keith and Kristyn Getty at the Grand Ole Opry House in Nashville and on tour in Cleveland, The Kennedy Center for the Performing Arts, and Carnegie Hall. A new Getty Music CD includes Mr. Kim featured in a solo role. Next September, he will return to Nashville to perform at the Getty Music Worship Conference – Sing! 2018. A dedicated teacher, Mr. Kim presents masterclasses at colleges, universities, and conservatories across the USA and Korea each season. He is the founder and Artistic Director of the annual David Kim Orchestral Institute of Cairn University in Philadelphia, where he is also a Professor of Violin Studies. Additionally, Mr. Kim serves as Distinguished Artist at the Robert McDuffie Center for Strings at Mercer University in Macon, GA.

Mr. Kim appears as soloist with The Philadelphia Orchestra each season as well as with numerous orchestras around the world. He also appears internationally at festivals such as Brevard, MasterWorks (USA), and Pacific (Japan). He frequently serves as an adjudicator at international violin competitions such as the Menuhin and Sarasate.

Mr. Kim has been awarded Honorary Doctorates from Eastern University in suburban Philadelphia, the University of Rhode Island, and Dickinson College. His instruments are a J.B. Guadagnini from Milan, Italy ca. 1757 on loan from The Philadelphia Orchestra and a Michael Angelo Bergonzi from Cremona ca. 1754. Mr. Kim resides in a Philadelphia suburb with his wife Jane and daughters Natalie and Maggie. He is an avid runner, golfer, and outdoorsman.

Mr. Kim endorses and uses Thomastik Dominant Strings as well as the AirTurn Hands Free Page Turning System.
---
Martin Beaver, Canada
Recognized as a soloist, chamber musician, and as first violinist of the renowned Tokyo String Quartet from 2002-2013, Martin Beaver is in demand all over the world. After a remarkable career, the quartet concluded their final season in the summer of 2013. The ensemble's reputation as one of the supreme chamber ensembles of the world has created an international following across the globe. They have collaborated with a remarkable array of artists and composers, built a comprehensive catalogue of critically acclaimed recordings and established a distinguished teaching record. Remaining one of Canada's violin ambassadors to the international concert stages, Mr. Beaver is an active musician for recital, concerto and chamber performances. In recent seasons he has performed Beethoven's Violin Concerto in a five-concert run with Orchestre Métropolitain. He also performed in recital and conduct residency activities at The Royal Conservatory in Toronto and as soloist with the Hamilton Philharmonic. In addition to his concert activities, Mr. Beaver has been newly appointed to the faculty at The Colburn School in Los Angeles and will act as co-director of the chamber music program and maintain his own studio in the school's conservatory of music. Mr. Beaver has been a concerto artist with orchestras around the world, including the San Francisco Symphony, the National Orchestra of Belgium, Mexico City Orchestra, the Portuguese Radio Orchestra and all major orchestras of Canada. He has collaborated with many esteemed artists including violinist Pinchas Zukerman and eminent conductors such as Kazuyoshi Akiyama, Raymond Leppard, Leon Fleisher, and Charles Dutoit. In recital, Mr. Beaver has enchanted audiences in cities such as Toronto, Vancouver, Montreal, New York, Chicago, Washington, DC, Honolulu, Brussels, London, and Edinburgh. He has also been invited to such festivals as the Ravinia Festival (Rising Stars Series), Concerts Under the Dome (Chicago), Seattle Chamber Music Festival, OstBelgien Festival (Belgium), Music in Blair Atholl (Scotland), and at all major Canadian festivals. A recipient of many awards, Mr. Beaver was the first to be awarded the use of the 1729 'ex-Heath' Guarneri del Gesù violin on loan from The Canada Council for the Arts-Musical Instrument Bank. He has also been the recipient of the Canada Council's prestigious Virginia Parker Award for being the most promising young Canadian artist. Mr. Beaver received top prizes at the 1993 Queen Elisabeth Competition in Belgium, 1990 International Violin Competition of Indianapolis, and the 1991 Montreal International Music Competition. A former pupil of Victor Danchenko, Josef Gingold, and Henryk Szeryng, Mr. Beaver has served on the faculties of The Royal Conservatory in Toronto, University of British Columbia, Peabody Conservatory of the John Hopkins University, the Steinhardt School at New York University, and the Yale School of Music.