Judith Ingolfsson, Iceland – Gold Medalist
Since winning the Gold Medal of the prestigious International Violin Competition of Indianapolis in 1998, the violinist Judith Ingolfsson has established herself worldwide as an artist of uncompromising musical integrity, extraordinary technical command and charismatic performance style.
Judith Ingolfsson has been heard with over one-hundred orchestras in the United States, including the Philadelphia Orchestra, Indianapolis Symphony Orchestra, Saint Louis Symphony Orchestra, National Symphony Orchestra, the Chamber Orchestra of Philadelphia and Wisconsin Chamber Orchestra. Abroad, her engagements have included the Bollington Festival Orchestra (UK), BrandenburgischesStaatsorchester Frankfurt, JenaerPhilharmonie, Neubrandenburg Philharmonie, the Bohemian Chamber Philharmonic Orchestra (Czech Republic), Filarmonica de Stat Sibiu (Romania), Saratov Philharmonic (Russia), Royal Chamber Orchestra of Tokyo, OrchestrePhilharmonique de Marseille, the Iceland Symphony and the Budapest Philharmonic Orchestra. She has collaborated with many of the acclaimed maestri of our time, including Jesus López-Cobos, Raymond Leppard, Wolfgang Sawallisch, Gerard Schwarz, Rico Saccani and Leonard Slatkin. Ms.Ingolfsson was also heard as soloist with the Iceland Symphony Orchestra in 2000 on its highly acclaimed 15-city North American tour, highlighted by performances at New York City's Carnegie Hall, and the Kennedy Center in Washington D.C.
Judith Ingolfsson's recital performances have taken her to many of the world's leading stages including Carnegie Hall, National Gallery of Art in Washington, DC, Cleveland Museum of Art, La Jolla Chamber Music Society, Reyjavík Arts Festival, Pro Arte Musicale of Puerto Rico, La AsociaciónNacional de Conciertos de Panamá, Macao Cultural Center, Tokyo Metropolitan Art Center, the Bargemusic series in Brooklyn and Konzerthaus Berlin. An avid chamber musician, she has collaborated with the Avalon, Miami and Vogler String Quartets and the Broyhill Chamber Ensemble, and has appeared as a member of the Chamber Music Society of Lincoln Center Two on tour and at Lincoln Center for the Performing Arts. Her festival appearances include the Appalachian Summer Festival, Boulder Bach Festival, Cape and Islands Chamber Music Festival, Grand Teton Music Festival, Strings in the Mountains Music Festival, Finland's Kuhmo Chamber Music Festival, Germany's Bodensee Festival, the Schleswig-Holstein Festival, Poland's "New Faces, New Music" Festival and the Spoleto Festival USA. Since 2006, she tours with the pianist Vladimir Stoupel as The Ingolfsson-Stoupel Duo.
Prior to her triumph at the International Violin Competition of Indianapolis, Ms.Ingolfsson was a top prizewinner at numerous national and international competitions, including the Concert Artists Guild Competition in New York City, the D'Angelo International Young Artists Competition and the Paganini International Violin Competition in Genoa, Italy. In 1999, National Public Radio's "Performance Today" named her "Debut Artist of the Year" for her "remarkable intelligence, musicality, and sense of insight." She is also the recipient of the 2001 Chamber Music America/WQXR Record Award for her debut CD on Catalpa Classics. Her recording of Tchaikovsky Violin Concerto with the Budapest Philharmonic Orchestra, available on the BPO Live label, was released in 2007. Her CD "En Hommage: Simon Laks" was released on EDA in 2010. In 2011 Judith Ingolfsson released a highly acclaimed recording of the Ysaye Solo Sonatas on the GENUIN label and, together with the pianist Vladimir Stoupel, a CD on the AUDITE label including works of Shostakovich and Stravinsky.
Born in Reykjavik, Iceland to an Icelandic father and Swiss mother, Judith Ingolfsson began her violin studies at the age of three and gave her first public performance on Icelandic State Television at age five. At the age of eight she recorded as soloist with the Iceland Symphony for Icelandic State Radio and a few weeks later performed her orchestral solo debut in Germany. Her family immigrated to the United States in 1980, and at the age of 14 was admitted to The Curtis Institute of Music in Philadelphia, where she studied with Jascha Brodsky. She went on to earn her Master's degree and Artists Diploma from the Cleveland Institute of Music as a student of David Cerone and Donald Weilerstein. She is currently Professor at the State University of Music and Performing Arts Stuttgart and co-artistic director and founder of Festival International "Aigues-Vives en Musiques" in France.
She performs on a Lorenzo Guadagnini violin, crafted in 1750, and a Dominique Peccatte bow. She also uses a baroque bow made by the modern German maker Bastian Muthesius.
---
Liviu Prunaru, Romania – Silver Medalist
Violinist Liviu Prunaru won the Silver Medal at the 1998 International Violin Competition of Indianapolis, where a reviewer from The Strad wrote that his performance was "Technical mastery…he can turn a single phrase with one note." He gained international recognition through his participation at several prestigious violin competitions winning Gold Medals at the Dong-A competition in Korea, the Rodolfo Lipizer in Italy, and the R. Molinari Violin Competition in Switzerland, in addition to a Silver Medal at the Queen Elizabeth in Brussels. After capturing First Grand Prizes at the E. Nakamichi Wieniawski Violin Competition and the Juilliard Mendelssohn Competition, Mr. Prunaru made his New York City debut in 1999 with the Juilliard Symphony at Alice Tully Hall.
Mr. Prunaru has performed recitals in many of the world's major cultural centers and has been a featured soloist with orchestras including the Royal Philharmonic, the London Symphony, Belgium National, Bucharest Radio-Symphony, and the Puchon Philharmonic in Korea. His work has also been in demand at renowned festivals including the Menuhin, Brussels, Buenos Aires, Evian, Athens, and Salzburg festivals. Mr. Prunaru can be heard on CD with Camerata Lysy, as well as his own debut CD released by Pavane Records. He recently released a disc on the Swiss label Claves which includes the three violin concertos by Camille Saint-Saëns, accompanied by the Ensemble Orchestral de Paris, directed by Lawrence Foster.
Born in Craiova, Romania, Mr. Prunaru studied at the renowned Menuhin Academy of Gstaad, Switzerland and completed his professional studies at The Juilliard School where he was an assistant to Dorothy DeLay and actively participated in master classes with Itzhak Perlman. Currently a professor at the Menuhin Academy in Switzerland, Mr. Prunaru performs on a 1676 Guarneri violin graciously loaned to him by Professor M. Muller.
---
Ju-Young Baek, South Korea – Bronze Medalist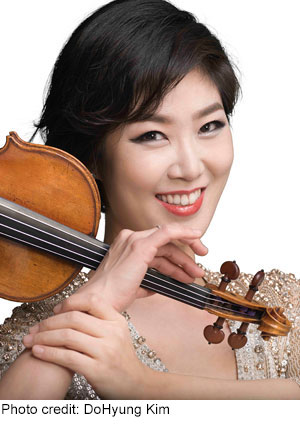 Violinist Ju-Young Baek's extensive solo concert engagements have taken her to some of the world's most prestigious venues. She has been presented in recital at Carnegie Hall and Lincoln Center in New York, Philadelphia's Kimmel Center, the Kennedy Center in Washington D.C., Suntory Hall in Tokyo, and the Seoul Arts Center. Ms. Baek has also performed as soloist with many orchestras including the London Philharmonic, Philadelphia Orchestra, Finnish Radio Orchestra, Tokyo Symphony Orchestra, Singapore Symphony Orchestra, the Korean Broadcasting System Orchestra, the Seoul Philharmonic Orchestra, the St. Petersburg Philharmonic, the Tblisi Philharmonic, the Alma-Ata Symphony in Kazakhstan, and with Norway's Oslo, Drammen, and Baerum Symphony Orchestras.
An active chamber musician, Ms. Baek has performed at the festivals of Marlboro, Ravinia, and Bridgehampton as well as at Juilliard's FOCUS! Festival, the Salzburg Summer Music Festival, the Rencontres Musicales Festival in Evian, France, and at the Kusatsu International Music Festival in Japan.
The recipient of numerous awards, Ju-Young Baek received the Bronze Medal at the 1998 International Violin Competition of Indianapolis, along with four Special Prizes. Her competition successes include First Place Prizes at the Young Concert Artists International Auditions, Astral Artistic Services Auditions, and the International Dong-A Violin Competition (Korea). She won top prizes at the International Paganini, the Queen Elisabeth International, the Concours International Long-Thibaud, and the International Sibelius violin competitions, as well as The Philadelphia Orchestra Young Artists Competition.
Ms. Baek holds a Bachelor of Music degree from The Curtis Institute of Music where she studied with Aaron Rosand. She received a Master's degree from The Juilliard School where she was a student of Robert Mann. She continued with Professional Studies at both the Manhattan School of Music and the Conservatoire Nationale Superieur de Paris, studying with Lucie Robert and Jean-Jacques Kantorow, respectively. In 2005, she was appointed the youngest violin faculty member in history at the prestigious Seoul National University.
---
Svetlin Roussev, Bulgaria
Photo credit: Julien Benhamou
Svetlin Roussev, a native of Roussé, Bulgaria, was recently appointed Concertmaster of the Radio France Philharmonic Orchestra. A decorated international competition winner in solo playing and chamber music, Roussev won more than ten international prizes including awards at the International Violin Competition of Indianapolis (USA), the Marguerite Long-Jacques Thibaud International Violin Competition (France), and the Melbourne International Chamber Music Competition (Australia). At the first Sendai International Music Competition (Japan) in 2001, he was awarded the Grand Prix, Special Public Prize and Special Prize for the best performance of a Bach concerto. He was also voted "Discovery of the Year 2000" by ADAMI and was selected for sponsorship by the Natexis-Banques Populaires Corporate Foundation in 2001.
Formerly Concertmaster of the Auvergne Chamber Orchestra in France, Svetlin Roussev is a member of the Rachmaninov Piano Trio and regularly performs with the Argentine Tango Orchestra, Tanguísimo.
Svetlin Roussev has played under conductors such as Leon Fleisher, Yehudi Menuhin and Yuzo Toyama and has appeared as a soloist with the Orchestre Philharmonique de Radio France, Orchestre National de Chambre de Toulouse, Indianapolis Symphony Orchestra, Montevideo Philharmonic, and Sendai Philharmonic. He has performed at many festivals including Radio-France Montpellier, Sully-sur-Loire, Kuhmo (Finland), La Roque d'Anthéron, L'Empéri, La Vésère, and Orangerie de Sceaux. He has also given recitals in China, South Korea, Taiwan, Singapore, Hong Kong and Thailand, as well as throughout Europe and in the United States.
He received his earliest training from his mother at the Music School in Roussé. In 1991 he entered the Conservatoire National Superieur de Musique in Paris where he studied with Gérard Poulet, Dévy Erlih and Jean-Jacques Kantorow. In 1994, the jury unanimously awarded him First Prize for violin Summa Cum Laude and First Prize for chamber music.
More on Svetlin Roussev : Svetlin Roussev, Tanguisimo
---
Andrew Haveron, Great Britain
The highest British prize-winner at the prestigious 'Paganini' competition for the last fifty years, Andrew Haveron is one of the UK's most sought after violinists. He was born in London in 1975 and took up the violin aged five. After studying at the Purcell School and London's Royal College of Music with Dr. Felix Andrievsky, Andrew also took prizes at the 'Queen Elisabeth' and Indianapolis competitions.
Since making his concerto debut at the age of fifteen Andrew has appeared with conductors such as Sir Roger Norrington, Kent Nagano, Stanislaw Skrowachewski, Raymond Leppard, John Lubbock, Jean-Jacques Kanteroff, Darrell Davison and John Wilson, performing a broad range of well known and less familiar repertoire.
In 1999 Andrew was appointed first violinist of the internationally acclaimed Brodsky Quartet. A busy schedule saw the quartet perform and broadcast in their unique style all over the world. Andrew recorded more than fifteen CDs with the quartet, many of which received industry awards such as "Diapason d'or" and "Choc du Monde."
Andrew also enjoys frequent invitations to guest lead major symphony orchestras including the London Symphony, the Royal Philharmonic and the Philharmonia orchestras and in July 2007 took up his new post as leader of the BBC Symphony Orchestra.
In 2004 Andrew received an honorary Doctorate from the University of Kent for his services to music.
Andrew plays on a violin made for him in 2001 by the American luthier Sam Zygmuntowicz.
---
Bin Huang, China
Photo credit: Ray Hsu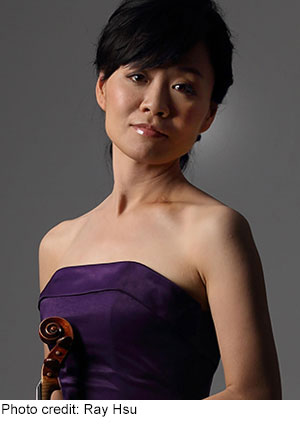 Bin Huang endeared herself to the musical world when at age fourteen she won the Junior Wieniawski International Violin Competition in Lublin, Poland, sharing First Prize with Maxim Vengerov. She has maintained international prominence, winning both the Paganini International Violin Competition in Genoa, Italy in 1994 and the Munich International Music Competition in 1999. Ms. Huang has been universally lauded for her interpretive and technical skills, hailed as "a talent that leaves a listener flabbergasted…" (The Sun, Baltimore), and "a winner at what matters the most…" (The Washington Post).
Bin Huang's live recording of the Beethoven Violin Concerto on Paganini's own violin, the "Cannon," is the only live recording played on that legendary instrument. Both the Audio Review in Italy and the Diapason in France have highly praised this CD: "The Chinese violinist astounded the listener with both her technical abilities and her musical maturity: ideal intonation, elegant lines…everything that gives the concerto its noble character…" (Diapason, France, September 2000). During 2002-2003 season, Bin Huang appeared in the People's Great Hall in Beijing as one of the ten most outstanding Chinese performing artists living abroad. Her recent recording of the "Baroque Violin Favorites" has been released on the Naxos label, The Strad magazine praised her for her " commendable technique and vigorous energy" (The Strad, March, 2003). Upcoming engagements enclude New Year Concert with the Genoa Youth Symphony Orchestra in Budapest, appearances with the Hong Kong Sinfonietta in Hong Kong and with the Shanghai Symphony in Washington D.C., tours in Italy and China, and recitals in the United States.
Regularly appearing in concerts throughout Europe, Asia, and the United States, her career has brought engagements with leading orchestras such as the Bavarian Radio Symphony, the Czech Philharmonic, the Prague Chamber Orchestra, the St. Petersburg Chamber Orchestra, the Korean Broadcasting System Symphony, and the Baltimore Symphony.
As the result of her love for chamber music, she formed the Fideo Piano Trio together with cellist Soo Bae, and pianist Hyun-Sun Kim in 2002 and it has performed in concerts in the United States including a performance in Alice Tully Hall in Lincoln Center and in Toronto, Canada. In the summers, she as participated in the Marlboro Music Festival where she has coached and performed with members of the Beaux Arts Trio and the Juilliard and Guarneri String Quartets.
Bin Huang began her violin studies at age four in her hometown of Hunan, China, and entered the Central Conservatory of Music in Beijing at age nine. After graduating from its high school, she came to the United States to study at the Peabody Conservatory of Music, where she earned her Bachelor of Music and Artist Diploma degrees. Her major teachers include Shu-Min Guo, Zhi-Long Wang, Berl Senofsky, Igor Ozim, Dorothy DeLay, Hyo Kang and Gennady Kleyman. She has also won top prizes in the Jacque Thibaud International Violin Competition in France, the Prague Spring International Music Competition in Czech Republic, the Tchaikovsky International Violin Competition in Russia, the Queen Elisabeth International Violin Competition in Belgium, the Hanover International Violin Competition in Germany, the Dong-A International Violin Competition in Korea, and the Indianapolis International Violin Competition in the USA.