Prizes Awarded at 2022 Indianapolis Competition
Gala Awards Ceremony for its Six new Laureates
Following Saturday night's AMPG Finals and subsequent Laureate placement announcement, the International Violin Competition of Indianapolis closed its 11th Quadrennial Competition with its Gala Awards Ceremony at the Scottish Rite Cathedral on Sunday, September 25. Among the festivities were performances by each of the six Finalists, as well as the presentation of Medals and Special Prizes bestowed upon the Finalists. Cash awards were given to each winner, plus to the pianist in the case of a sonata.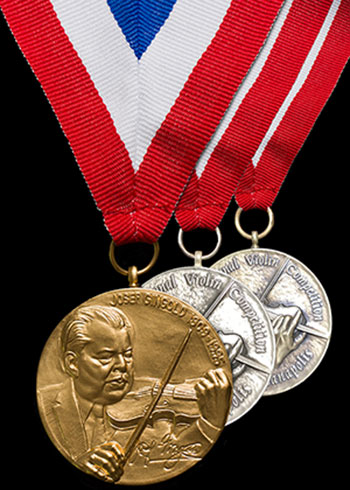 Gold Medalist – $75,000
Sirena Huang
Sponsored by Marianne Williams Tobias
Silver Medalist – $30,000
Julian Rhee
Sponsored by David and Amy Fulton
Fourth Place Laureate – $10,000
Claire Wells
Sponsored by Dawn and Tom Bennett
Fifth Place Laureate – $8,000
Sixth Place Laureate – $6,000
Joshua Brown
Sponsored by Barnes & Thornburg, LLP
In addition to the cash prize, Gold Medalist Sirena Huang received the Josef Gingold Gold Medal, designed by Indiana sculptor Dan Edwards. She will also receive a Carnegie Hall recital debut and a recording contract. The Gold, Silver and Bronze Medalists will receive career management for four years, and will have the opportunity to use a violin from the IVCI collection, including the 1683 "ex-Gingold" Stradivarius until the next Competition in 2026.
Below is a list of the 2022 Special Prizes
Best Performance of a Bach Work
$1,000
Sirena Huang
(Adagio and Fuga from the Sonata No. 3 in C major, BWV 1005)
Sponsored by Alan and Elizabeth Whaley
Best Performance of a Work by Paganini, Ernst or Milstein
$1,000
SooBeen Lee
(Milstein: Paganiniana)
The Michael D. O'Brien Award
Best Performance of an Encore Piece
$1,000
Sirena Huang
(Tchaikovsky: Mélodie in E-flat from Souvenir d'un lieu cher, Op. 42, No. 3)
The Thomas J. Beczkiewicz Founding Director's Award
Underwritten by the Aikman Foundation in honor of
Thomas J. Beczkiewicz for his significant contributions
to the world of music
Best Performance of a Mozart Sonata or
Schubert Sonatina
Violinist – $1,000
Sirena Huang
Sponsored by The Kwok Family
Pianist – $1,000
Melivia Raharjo, Piano
(Mozart: Sonata in G major, K. 301)
Sponsored by Joo and Stephen Boe
Best Performance of a Beethoven Sonata
Violinist – $1,000
Sirena Huang
Sponsored by Ann H. Hunt
Pianist – $1,000
Melivia Raharjo, Piano
(Sonata No. 7 in C minor, Op. 30)
Permanently endowed in loving memory of
Francis J. Chen and Kuang Jui-Fang by their sons,
sons-in-law and granddaughter Victor, Betty,
Benjamin, Helen and Heidi
Best Performance of the Commissioned Work,
Incontro, by John Harbison
$1,000
Sirena Huang
Title Sponsor Christel DeHaan Family Foundation
Associate Sponsor Charles and Carol Ward, in memory of Mark and Carmen Holeman
Best Performance of a Ysaÿe Sonata
$1,000
Claire Wells
(Sonata for Solo Violin, Op. 27, No. 4)
In memory of Robert C. Held
Best Performance of a Violin-Piano Sonata
(other than Beethoven) from the Semi-Finals
$1,000
Sirena Huang
(Brahms: Sonata No. 2 in A major, Op. 100)
Sponsored by Donald P. Bogard
Best Performance of a Classical Concerto
$2,500
Minami Yoshida
(Mozart: Violin Concerto No. 5 in A major, K. 219)
The Andrew J. Paine, Jr. Award
Best Performance of a Kreisler Encore
$1,000
Sirena Huang
(La Gitana)
Anonymous, in memory of Dorothy DeLay
Best Performance of a Concerto in the Finals
$5,000
Sirena Huang
(Dvořák: Violin Concerto in A minor, Op. 53)
Sponsored by Kathy and Lou Daugherty