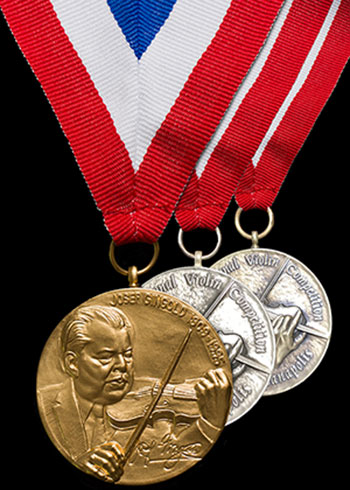 The IVCI bestows many significant prizes following the Competition valued at over $350,000. Among these include the loan of a violin from the IVCI collection, including the "ex-Gingold" 1683 Stradivari violin for four years.
In all, over thirty cash prizes will be awarded, including special prizes. Perhaps the most valuable prize of career management and international concert engagements are provided to the Gold, Silver and Bronze Medalists. Career mentorship, a hallmark of The Indianapolis, includes practical business skill training in financial planning, publicity, fashion consultancy, and media relations.
The Gold Medalist will receive a Carnegie Hall recital debut at Stern Auditorium, a recording contract, plus website development and maintenance until the next quadrennial.
The cash prizes for the top six Finalists are:
---
Gold Medalist
$75,000

Silver Medalist
$30,000

Bronze Medalist
$15,000

Fourth Place Laureate
$10,000

Fifth Place Laureate
$8,000

Sixth Place Laureate
$6,000