Mihaela Martin, Romania – Gold Medalist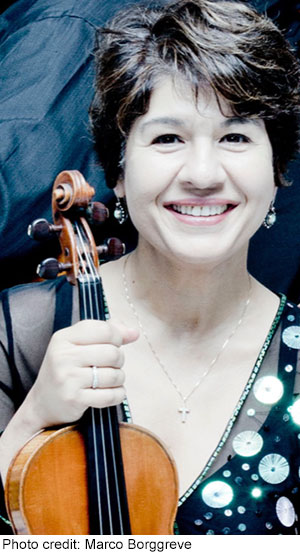 Romanian-born Mihaela Martin has achieved the reputation of being one of the most outstanding violin virtuosos of her generation. She began to study violin with her father at the age of five, and later went to study with Professor Stefan Gheorghiu, who had been himself a pupil of George Enescu and David Oistrach.
Ms. Martin has won numerous international competitions, beginning with the Second Prize at the Tchaikovsky Competition in Moscow when she was 19 and followed by top prizes in Montreal, Sion, and Brussels. Her First Prize win at the First International Violin Competition of Indianapolis led to a steady international career. Her debut in Carnegie Hall, New York, was described by The New York Times as "one of the most exciting debut concerts of the year," and The Washington Post wrote after her Recital at the Library of Congress: "'Mihaela Martin remains to ornament the music world for years…(She) played with the energy and virtuosity that are prerequisites for success. Her concentration is absolute, she is sure of herself and, above all, has imagination."
Ms. Martin is a sought after soloist with a very large repertoire. Among the orchestras she has performed with are the BBC Symphony, the Royal Philharmonic, the Montreal Symphony, Mozarteum Salzburg, Gewandhaus Leipzig, Hollywood Bowl, with conductors such as Kurt Masur, Nikolaus Harnoncourt, Charles Dutoit, Neeme Järvi. Known for her intellectual and musical qualities, she is constantly invited to chamber music festivals all over the world, where she plays with musicians like Martha Argerich, Yuri Bashmet, Elisabeth Leonskaja, Nobuko Imai, Leon Fleisher, and Menahem Pressler, to name just a few. She has performed for radio and television and has recorded several CDs.
Since 2003 she has been a founding member of the Michelangelo String Quartet together with Stephan Picard, Nobuko Imai, and Frans Helmerson, with whom she tours extensively in Europe and Asia. One of the Quartet's main projects is the recording of the whole cycle of Beethoven Quartets for the Pan Classics label in Switzerland.
She holds professorships at the Barenboim-Said Akademie, Musikhochschule Koeln, and at the Haute Ecole de Musique in Geneva, and she gives master classes all over the world. Ms. Martin is regularly invited to be a member of the Jury for international competitions such as Queen Elisabeth (Brussels, Belgium), Indianapolis (USA), Enescu (Romania), and Tchaikovsky (Moscow).
Her violin is a J.B. Guadagnini from 1748.
Ida Kavafian, United States- Silver Medalist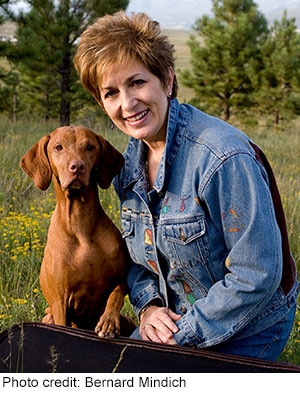 Ida Kavafian enjoys an international reputation as one of the most versatile musicians performing today. With a repertoire as diverse as her talents, she has electrified stages as a recitalist as well as a soloist with major orchestras across the globe. For over 25 years, Ms. Kavafian has been the artistic director of the highly successful festival, Music from Angel Fire, in New Mexico. A graduate of Juilliard studying with Oscar Shumsky, she made her NY debut under Young Concert Artists. As the Kavafian Duo, she appears frequently with her sister, violinist Ani Kavafian. Together they have performed in recital as well as with the symphonies of Detroit, Colorado, Tucson, San Antonio, and Cincinnati and have recorded the music of Mozart and Sarasate on the Nonesuch label. They were featured on CBS Sunday Morning and NBC's "Today Show," and celebrated the 25th anniversary of their first performance together at Carnegie Hall in the fall of 2008. Ms. Kavafian has also appeared in a solo feature on "CBS Sunday Morning." Ms. Kavafian continues her association with Chamber Music Society of Lincoln Center with a number of appearances in New York and on tour.
Ms. Kavafian's commitment to contemporary music has led to many world premieres by composers such as Toru Takemitsu, who wrote a concerto for her, and to tours and recordings with jazz greats Chick Corea and Wynton Marsalis as well as Mark O'Connor. She gave the world premiere of Daugherty's concerto "Fire and Blood" with the Detroit Symphony under Neeme Järvi, and went on to perform it in Carnegie Hall with the American Composers' Orchestra and with the National Symphony of Mexico. In past seasons she performed "Fire and Blood" at the Interlochen Arts Academy (and with them on tour), where she spent much of her musical youth and from which she received the coveted Alumni Award. Since her founding membership in the innovative group TASHI, Ida Kavafian's chamber music appearances have included many renowned festivals and series throughout the world. She has toured and recorded as violist with the Guarneri String Quartet. During her six-year tenure as the violinist of the legendary Beaux Arts Trio, the group was named "Ensemble of the Year" by Musical America and received a Grammy nomination. She formed the ensemble Opus One with pianist Anne-Marie McDermott, violist Steven Tenenbom and cellist Peter Wiley, which recently commissioned and premiered new works by George Tsontakis, Marc Neikrug, Lowell Liebermann, and Stephen Hartke. She is a frequent guest artist with ensembles such as the Orion, America, and Shanghai string quartets.
Born in Istanbul, of Armenian descent, Ms. Kavafian immigrated to the United States with her family when she was three. She began her studies at age six with Ara Zerounian, continued with Mischa Mischakoff, and ultimately earned her master's degree, with honors, from The Juilliard School, where she was a student of Oscar Shumsky. In addition to serving on the faculties of the Curtis Institute and the Bard College Conservatory, she joined that of The Juilliard School for the academic year 2012-13 and has served on numerous competition juries and boards, including Chamber Music America.
Ida Kavafian made her New York debut with pianist Peter Serkin, as a winner of the Young Concert Artists International Auditions, and also received the coveted Avery Fisher Career Grant.
Her violin is a J.B. Guadagnini, made in Milan in 1751, and her viola was made in 1987 by Peter and Wendela Moes.
Yuval Yaron, Israel – Bronze Medalist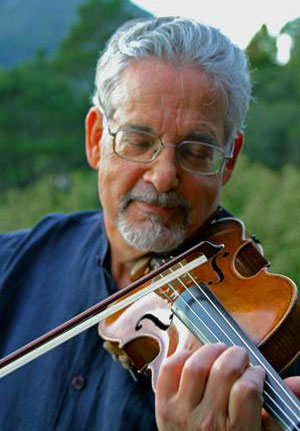 Yuval Yaron, one of today's great violinists, joined the music faculty at University of California Santa Barbara after over two decades at the Indiana University School of Music. From his first prize-winning performances at the 1975 Sibelius Competition in Helsinki, he has thrilled audiences on three continents in recital, in recording and as soloist with major orchestras.
Mr. Yaron has performed as guest soloist with distinguished symphony and radio orchestras such as Tokyo, Israel, Munich, Berlin, Mexico City, Frankfurt, Stockholm, Helsinki, Detroit, Cleveland, Baltimore, St. Louis, Montreal, and Indianapolis. He has collaborated with conductors Zubin Mehta, Lorin Maazel, Klaus Tennstedt, and James De Priest, among others. Mr. Yaron's recording on Accord of the six Sonatas and Partitas of Bach on two CD's received international praise. The six Sonatas of Eugene Ysaÿe, followed by the "10 Jewish Melodies," were also recorded on the same label. Reviews of his recent CD of Baroque Sonatas, including Tartini's famous Devil's Trill, remark that "Yaron's superlative command of every aspect of violin technique is obvious in his virtuosic approach to the works on the disc." More recent recordings include pieces on the Warner Classics "Sibelius Essentials" (2012) and "The Classical Guide to Sibelius" (2013), as well as "Sibelius: Miniature Masterpieces" on the Finlandia label. "Unabashed in his adherence to the grand school of violin playing advanced by his pedagogues, Josef Gingold and Jascha Heifetz, Yaron's renditions are as sonorous as they are virtuosic." (The Strad, London, May 1999).
Yuval Yaron has been heard in recital in his native Tel-Aviv, Chicago, Boston, Los Angeles, Toronto, Basel, Hannover, Helsinki, and Reykjavik to great critical acclaim. In addition to the standard recital repertoire, he has performed extraordinary one-evening solo concerts of the complete solo Sonatas and Partitas of Bach.
Olivier Charlier, France – Fourth Place Laureate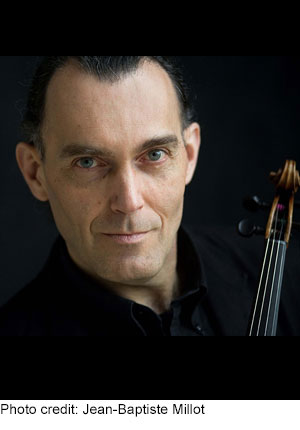 Olivier Charlier is a modest man who has never courted the media but has made a name for himself as one of the finest violinists of his generation. He is a fine representative of the French school of violin playing (that of Jacques Thibaud, Ginette Neveu, Christian Ferras) on stages all over the world.
Mr. Charlier showed a precocious talent, graduating with a Premier Prix from the Paris Conservatoire (CNSM) at the age of fourteen, then reaping prizes at international competitions, including Munich, Montreal, Helsinki (Sibelius), Paris (Jacques Thibaud), Indianapolis, and New York (Young Concert Artists). Great artists such as Nadia Boulanger, Yehudi Menuhin, and Henryk Szeryng spontaneously took the brilliant young musician under their wing. He has given concerts with about fifty different French orchestras, including all those of Paris (Orchestre National, Orchestre de Paris, Philharmonique de Radio France, Opéra, Ensemble Orchestral, etc.), and all the regional orchestras (Orchestre National d'Ile de France, Orchestre National des Pays de Loire, Lyon, Bordeaux, Toulouse, Lille, Strasbourg, Montpellier, Cannes, and Nice). He also appears regularly with major international orchestras: London Philharmonic, BBC Philharmonic, Hallé, CBSO, Berlin Symphony, Hamburg and Saarbrücken Radio Orchestras, Württemberg Chamber Orchestra, Bayerische Rundfunk, Tonhalle Zurich, Netherlands Philharmonic, the orchestras of The Hague, Monte-Carlo, Prague, Zagreb, New York, Montreal, Quebec, Mexico, Tokyo, Sydney, and Stockholm.
Olivier Charlier's active recording career reflects his eclecticism; it includes (for Chandos) the violin concertos by Dutilleux ('L'arbre des songes'), Lalo (Russian Concerto and Concerto in F), Edward Gregson, Gerard Schurmann, all of them with the BBC Philharmonic Orchestra. He also recorded the Roberto Gerhard Concerto with the BBC Symphony Orchestra; the Mendelssohn Concertos with the Monte-Carlo Philharmonic and Lawrence Foster(for Erato); and the Saint-Saëns Concerto with the Ensemble Orchestral de Paris and Jean-Jacques Kantorow (for EMI France). He has also recorded many French sonatas, with Jean Hubeau (Franck, Debussy, Saint-Saëns, Pierné, and Vierne) for Erato, and with Brigitte Engerer (Schumann, Grieg, Beethoven) for Harmonia Mundi. In 2008, he released Mozart's Concertos Nos. 3, 4, and 5 with the Prague Chamber Orchestra and in 2010 Vivaldi's 4 Seasons with the Orchestre de Chambre d'Auvergne for Transart Live. His most recent recording of Chopin's chamber music with Antoine Pierlot and Abdel Rahman El Bacha was released by Transart in 2012.
Mr. Charlier teaches at the Paris Conservatoire (CNSM), where he succeeded Pierre Doukan (who taught him) in 1992. He is regularly among the judges at international competitions, including Munich, Hanover, Indianapolis, Jacques Thibaud, Sibelius, and others.
Nai-Yuan Hu, Taiwan – Fifth Place Laureate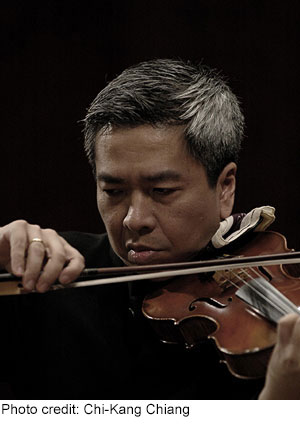 Since winning the First Prize of the prestigious Queen Elisabeth International Competition in 1985, violinist Nai-Yuan Hu has appeared on many of the world's stages, including the Concertgebouw in Amsterdam, Avery Fisher Hall in New York and major venues in London, Paris, Brussels, Munich, and other cities in Europe, North and South Americas, and Asia. In praise of his playing, BBC Music Magazinewrote, "Taiwanese violinist Nai-Yuan Hu is an awesomely capable performer whose technical facility, musical intelligence and unfaltering verve place him among the higher echelons of today's string virtuosi."
Mr. Hu's solo engagements include appearances with the Royal Philharmonic Orchestra of London, Toronto Symphony, Seattle Symphony, Netherland and Rotterdam Philharmonic orchestras, Belgian National Orchestra, Liège Philharmonic, Orchestre National de Lille in France, Haifa Symphony, Austro-Hungarian Haydn Chamber Orchestra, Tokyo Philharmonic and Tokyo Metropolitan Symphony, Taiwan's NSO & NTSO, China and Hong Kong Philharmonic Orchestras, and others. He has collaborated with such conductors as George Cleve, Adam Fischer, Leon Fleisher, Gunther Herbig, Jahja Ling, Shao-Chia Lu, Gerard Schwarz, Maxim Shostakovich, and Hubert Soudant, among others. As a recitalist, Mr. Hu has performed in such venues as Alice Tully Hall and Weill Recital Hall in New York, Cité de la Musique in Paris, Purcell Room in London, Casals Hall in Tokyo, and Jordan Hall in Boston where he premiered Bright Sheng's "The Stream Flows" in 1990. In summer seasons, he has appeared either as a guest soloist or chamber music artist in such festivals as Mostly Mozart, Marlboro, OK Mozart, Seattle, Grand Teton, and Newport. In 1999, he collaborated with Fou Ts'ong, Martha Argerich and Misha Maisky in the Beijing Music Festival. Mr. Hu is the Music Director of Taiwan Connection, a music festival he founded in his native homeland in 2004 to promote chamber music. A conductorless string orchestra consisting of young talented Taiwanese musicians was incorporated into the Festival in 2007. Two years later, with the addition of a full complement of winds, TC Chamber Orchestra was formed. In 2010, the TC musicians tackled Beethoven "Eroica" Symphony to critical acclaim.
Mr. Hu's recording of Goldmark's Concerto and Bruch's Concerto No. 2 with Gerard Schwarz and the Seattle Symphony (Delos) garnered "Critics' Choice" from Gramophone as well as praises from many publications including BBC Music Magazine, The Times of London, and The Washington Post. His solo violin album "Unaccompanied…" for EMI label received two Golden Melody Awards in Taiwan for best classical album and best instrumentalist. In 2003, he released "Vienna Revisted" which comprises many of the beloved violin pieces from a bygone era. He also recorded violin solo works on "The Poetic Violin of Nai-Yuan Hu," "Chi-Mei Proudly Presents: A Musical Feast II," with pianist Elizabeth Sawyer Parisot, and chamber music for the "2007 Newport Music Festival Connoisseur's Collection." He was featured as a violinist in the 2001 film Kate and Leopold starring Meg Ryan and Hugh Jackman.
Mr. Hu has served on the jury of international competitions such as Queen Elisabeth Competition in Brussels and Seoul Violin Competition. Born in Taiwan, he began studying the violin at age five and was soloist with the National Youth Orchestra of Taiwan three years later. He came to the United States in 1972 to continue his studies, first with Broadus Erle and later with Joseph Silverstein and Josef Gingold and also served as Gingold's assistant after graduation.
Yuriko Naganuma, Japan – Sixth Place Laureate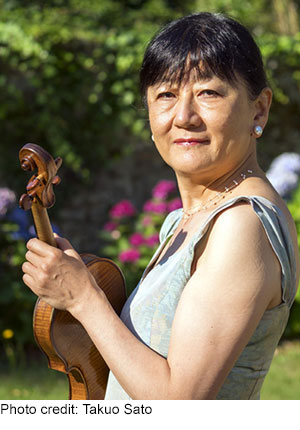 Born in Japan, Yuriko Naganuma began her musical studies in Tokyo. She then moved to France where she obtained a first prize at the Conservatoire National Supérieur de Musique de Paris in Madame Michèle Auclair's class. She won other prizes at the Paganini Competition in Genoa and at the Jacques Thibaud International Competition in 1981, and prizes at the Indianapolis and Montreal International Competitions.
Based in France, she gives a series of concerts each year in Japan. She divides her time between her performances as a soloist and her position as first violinist with the Octuor de France, an ensemble that performs live accompaniments to fifteen classics of the silent cinema with music written for the Octuor de France by Gabriel Thibaudeau and Antonio Coppola, plus a score written by Raymond Alessandrini. These performances have occurred in the National Gallery of Art in Washington D.C. and Harvard University's Sanders Theatre in Boston, and in Japan, Canada, Italy, Luxembourg, Finland, Spain, Brazil, Belorussia, Greece, and many French cities.
In 1997, Yuriko Naganuma recorded Jean Francaix's Violin Concerto with the Orchestre Philharmonique de Monte-Carlo, conducted by the composer himself. She has also recorded "Salve Regina" by Pergolesi and Vivaldi and a CD of works by Sauguet with the Ensemble Instrumental Jean-Walter Audoli, as well as CDs of works by Schubert, Françaix, and Reicha with Ensemble Carl Stamitz.