Richard Lin, Taiwan/U.S.A. – Gold Medalist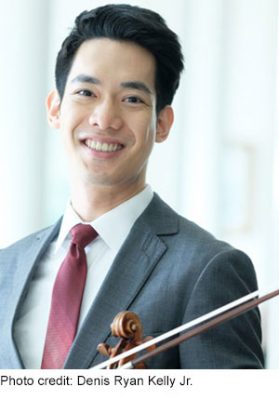 Taiwanese-American violinist Richard Lin is the Gold Medalist of the 10th Quadrennial International Violin Competition of Indianapolis, which took place in September of 2018. 
Highlights of Mr. Lin's 2021-2022 performances include concerts with the National Symphony Orchestra in Taiwan and a tour of Japan with the National Taiwan Symphony Orchestra.  In the United States, he will appear with the Baton Rouge Symphony and the Indianapolis Chamber Orchestra.  Multiple recitals in Taiwan, Texas, California, and Pennsylvania will culminate in a Carnegie Hall Stern Auditorium recital debut in June 2022.  Passionate about chamber music, Richard will will give concerts in the United States as a member of Chamber Music Society of Lincoln Center's Bowers Program and perform at Music@Menlo.
Richard has collaborated with numerous orchestras and performed at celebrated concert venues throughout the world including the Tokyo Symphony Orchestra under conductor Norichika Iimori at Tokyo's Suntory Hall. Other orchestras with whom he has worked are the NDR Radiophilharmonie; Indianapolis, North Carolina, Shanghai and Singapore symphonies; Poznań, Łódź, Polish Baltic, Nagoya, Taiwan, and Oklahoma City philharmonics; Hong Kong Sinfonietta, National Taiwan Symphony Orchestra, Yomiuri Nippon Symphony Orchestra, Orchestra Ensemble Kanazawa, Munich Chamber Orchestra, Amadeus Polish Chamber Orchestra, and the Royal Chamber Orchestra of Wallonia among others.
He released his first album on the Fontec label in 2013 featuring works for violin and orchestra by Beethoven, Bartók and Brahms performed with the Sendai Philharmonic and conductor Pascal Verrot. The following year, he released the complete Brahms Sonatas for Piano and Violin with his brother, pianist Robert Lin.
Richard has amassed a startling collection of top prizes at major international competitions including 1st Prize at the Sendai International Violin Competition; 3rd Prize in the Joseph Joachim International Violin Competition in Hannover; and 2nd Prize at the Singapore and Michael Hill International Violin competitions.  A dedicated teacher, Richard is on the faculty of the National Taipei University of Education.
Born in Phoenix, Arizona and raised in Taiwan, Richard began his violin studies at the age of four. He gave his public debut at age eleven performing the Saint-Saëns Violin Concerto No. 3 with the Taipei Symphony Orchestra. Richard graduated from the Curtis Institute of Music and The Juilliard School where he studied with Aaron Rosand and Lewis Kaplan respectively.  As part of his Indianapolis prize, Richard has the use of the 1683 "ex-Gingold" Stradivarius and 2017 Sam Zygmuntowicz for four years.
Risa Hokamura, Japan – Silver Medalist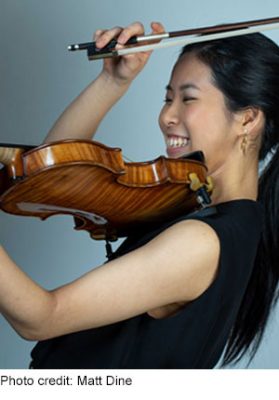 Risa Hokamura began violin at the age of three, and began to capture top prizes in competitions in Japan at age ten. She first came to international attention upon winning the Silver Medal at the 2018 International Violin Competition of Indianapolis, where she performed the Tchaikovsky Concerto with the Indianapolis Symphony conducted by Leonard Slatkin. In celebration of her medal, she returned to Indianapolis to perform a special "Gold, Silver and Bronze Medalists Debut" concert.
Ms. Hokamura won First Prize in the 2018 Young Concert Artists International Auditions at the age of seventeen. She follows in the distinguished footsteps of her two major violin teachers, who also began their careers with Young Concert Artists: Koichiro Harada (founding first violinist of the Tokyo String Quartet) and Mayuko Kamio.
A native of Japan, Risa Hokamura is currently studying at the Artist Diploma program of the Tokyo College of Music as the Honorary Scholarship student under the tutelage of Koichiro Harada, Mayuko Kamio and Machie Oguri. This fall, she will attend the Manhattan School of Music as a Full Scholarship student under the tutelage of Koichiro Harada and Lucie Robert. She is also a recipient of the scholarships from the Ezoe Memorial Foundation and the Rohm Music Foundation.
Luke Hsu, U.S.A. – Bronze Medalist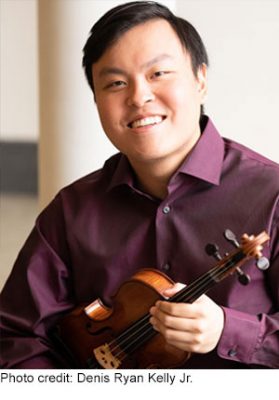 2018 Bronze Medalist, violinist and composer Luke Hsu is hailed as "in a class by himself with total command of the instrument" by the Montréal Gazette. As a soloist and recitalist, Luke has appeared at Wigmore Hall, St. John's Smith Square, Windsor Castle, Kennedy Center, Herkulessaal, Jordan Hall and Teatro Carlo Felice, among many others. Additionally, he has performed as soloist with numerous orchestras around the world, including the Orchestre National de la Belgique, Royal Chamber Orchestra of Wallonia, Teatro Carlo Felice Genova Orchestra, the Houston, Dallas, Indianapolis, Auckland and Odense symphony orchestras, Poznan Philharmonic Orchestra, Amadeus Chamber Orchestra of Polish Radio, East Coast Chamber Orchestra, Royal Academy of Music Chamber Orchestra, and the Tongyeong Festival Orchestra. He has worked closely with eminent conductors including Leonard Slatkin, Nikolaj Znaider, Pascal Vierrot, Hugh Wolff, Marek Pijarowski, Jean-Jacques Kantarow and Cristian Macelaru. His performance with the Victoria Symphony Orchestra was recorded and broadcast on NPR's Performance Today, and other performances have been broadcast on Canada's CBC and Denmark's DR. He has performed for royalty around the world including His Royal Highness The Earl of Wessex Prince Edward and Her Majesty Queen Mathilde of Belgium.
Luke has won prizes at many of the most prestigious violin competitions in the world including the Paganini, Wieniawski, Isang Yun, Nielsen, and Queen Elisabeth competitions. As a chamber musician, he has collaborated with luminaries such as Itamar Golan, Cho-Liang Lin, Gil Shaham, Marc-André Hamelin, Peter Frankl, Colin Carr, and musicians from the New York Philharmonic, Chicago Symphony Orchestra, and the Orchestre Symphonique de Montréal. His festival appearances include Pablo Casals Festival, Verbier, La Jolla SummerFest, Prussia Cove Open Chamber Music, Music@Menlo, YellowBarn, San Miguel de Allende Chamber Music Festival, Aspen Music Festival, and Tongyeong International Music Festival. He is also currently Artistic Advisor for Music at the K&M Festival in Stavanger, Norway.
As a composer, Luke has written numerous chamber works including a duo written specifically for the Weilerstein Duo. Lutosławski and Webern are his biggest influences, and he hopes to write music that carries this tradition forward into the 21st century.
Luke started his violin studies in Houston with Fredell Lack and Emanuel Borok, and debuted with the Houston Symphony at age 16. He studied with Cho-Liang Lin at Rice University's Shepherd School of Music, Donald Weilerstein at the New England Conservatory, and Rodney Friend at the Royal Academy of Music in London. Other teachers and close mentors include Pierre Amoyal, Vivian Hornik-Weilerstein, Kim Kashkashian and Lucy Chapman. 
Anna Lee, U.S.A. – Fourth Place Laureate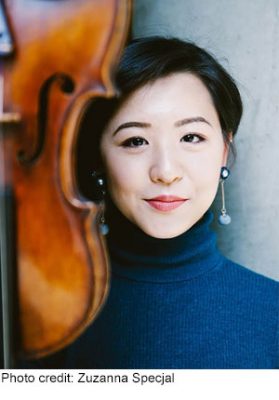 Delighting her listeners with "her warm, humane musicianship" and "sweet spot of grace", Anna Lee is an active concert violinist, chamber musician, and teacher. She began violin studies at the age of four with Alexander Souptel and debuted as soloist performing the Paganini Violin Concerto No. 1 a year and a half later with the Singapore Symphony Orchestra under the baton of Lan Shui. She spent a large part of her childhood in Japan and Singapore even though she was born in South Korea, and at the age of six moved to New York after being accepted to the Juilliard School Pre-College Division under the tutelage of Masao Kawasaki.
Concert venues that Anna Lee has appeared in are the Carnegie-Weill, Carnegie-Zankel, Wigmore, Beethoven-Haus, Avery Fisher, Victoria, Lotte, and Esplanade Concert Halls, as well as Merkin Hall and Peter Jay Sharp Theater. She has claimed top prizes in the 2019 Montréal Competition, 2018 Indianapolis Competition, 2011 Sion-Valais Competition, 2011 Kronberg Violin Masterclasses, 2010 and 2012 Menuhin Competition (Junior and Senior Divisions, respectively), and Aspen Music Festival AACA Competition. Anna Lee has been the recipient of numerous awards, including the Louis Sudler Prize in the Arts, awarded by Office for the Arts at Harvard, the Bernhard and Mania Hahnloser Violin Prize at the Verbier Festival Academy, and the Jack Kent Cooke Young Artist Award.
She has also been featured in music festivals around the world such as the Gstaad Menuhin Festival and the Marlboro Music Festival, and on radio shows such as "From the Top" with host Christopher O'Riley and NPR Performance Today with host Fred Child. She has also been the cover page feature of the Wall Street Journal Magazine.
Notable chamber music collaborations include Gidon Kremer, Yuri Bashmet and Steven Isserlis in the Kronberg Academy's "Chamber Music Connects the World" festival. Anna Lee was also presented by Sir András Schiff at the BeethovenFest in Bonn. As a soloist, Anna Lee made her New York Philharmonic debut in April 2011, as well as her Frankfurt debut in 2016 with maestro Christoph Eschenbach and the Hessische Rundfunk Radio Orchestra. She has also appeared with the Singapore, Indianapolis, Park Avenue Chamber, and Montreal Symphony Orchestras.
Anna Lee's teachers were Masao Kawasaki and Cho-Liang Lin at the Juilliard School Pre-College Division, Ana Chumachenco at the Kronberg Academy, and Miriam Fried and Don Weilerstein in Boston, where she completed her Comparative Literature degree at Harvard College. She has also taught as a chamber music teacher, most notably at the Kronberg Academy's Mit Musik—Miteinander festival and Festival MusicAlp in France. Most recently, Anna has begun work on a Master of Musical Arts degree at Yale University.
Anna Lee plays a Giovanni Tononi violin, dated ca. 1690, on a generous loan from the Ravinia's Steans Music Institute.
Ioana Cristina Goicea, Romania – Fifth Place Laureate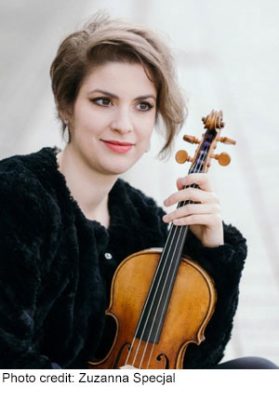 Ioana Cristina Goicea is one of the outstanding violinists of her generation. She won First Prize at the 2017 Michael Hill International Violin Competition in New Zealand, with critics praising her passionate performance and describing her as "a new star in the musical firmament." In 2018 she won First Prize at the German Music Competition in Bonn and was a laureate of the International Violin Competition of Indianapolis. In 2019 she became a prize winner of the prestigious Queen Elisabeth Competition in Brussels. She is also the winner of the J. Brahms International Competition (2013) and laureate of the "Fritz Kreisler" International Violin Competition Vienna (2014).
In October 2020, at the age of 27 she was appointed violin professor at the renowned University of Music and Performing Arts in Vienna.
Ms. Goicea has performed at renowned venues in Europe, Asia, America, New Zealand and Australia, among them the Concertgebouw Amsterdam, St Martin-in-the-Fields London, the Melbourne Recital Centre, Bozar Brussels, Meistersingerhalle Nürnberg, the Queen Elisabeth Hall Antwerp, the Shanghai Concert Hall, the Athenaeum Bucharest, the Townhall Auckland, the Slovak Philharmonic Bratislava, Konzerthaus Freiburg.
She has performed as a soloist with the Belgian National Orchestra, Nürnberger Symphoniker, NDR Radiophilharmonie Hannover, Staatskapelle Halle, Orchestre Royal de Chambre de Wallonie, the Auckland Philharmonia, the Indianapolis Symphony, the George Enescu Philharmonic Bucharest, the Antwerp Symphony Orchestra, the National Radio Orchestra Bucharest, the Beethoven Orchestra Bonn, the Südwestdeutsche Philharmonie, and the Baden-Baden Philharmonic.
In addition to her career as a soloist, the young violinist is also an avid chamber musician. She performed at renowned chamber music festivals and academies: the Verbier Academy, Hitzacker Festival and Academy and the Heidelberger Frühling Academy.
In 2015, together with pianist Andrei Banciu, she won the Second Prize and the Young Duo Award at the International Competition "Premio Trio di Trieste" in Trieste, Italy.
Ioana Cristina Goicea was born into a family of musicians in Bucharest in 1992. She is studying with Krzysztof Węgrzyn at the Hanover University of Music, Drama and Media. She previously studied with Mariana Sîrbu at the University of Music and Theatre "Felix Mendelssohn Bartholdy" Leipzig and with Petru Munteanu at the University of Music and Theater in Rostock. She participated in masterclasses with Prof. Mihaela Martin, Silvia Marcovici, Pinchas Zuckerman and Saschko Gawriloff.
Ioana Cristina Goicea plays a Giambattista Guadagnini violin (Parma, 1761) generously loaned to her by the German Music Instrument Fund in Hamburg (Deutsche Stiftung Musikleben).
Shannon Lee, U.S.A. – Sixth Place Laureate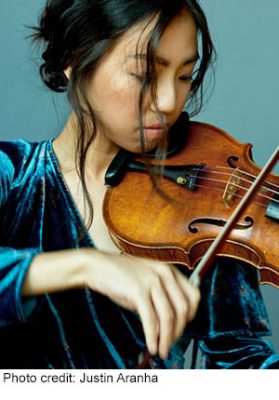 Violinist Shannon Lee has been praised for her "remarkable fire, impeccable intonation, and big, vibrant tone" (Gramophone). She is a recent prizewinner in several international competitions, including top prize and audience award at the Sendai Competition in Japan, 4th prize at the Queen Elisabeth Competition in Belgium, 2nd place at the Naumburg Competition in New York City, and Laureate at the Indianapolis Competition, where she was also recognized for Best Performance of an Ysaÿe Sonata. Her festival appearances as a soloist and chamber musician include Heifetz International Music Institute as Artist-in-Residence, Krzyżowa-Music, Music@Menlo, and Music From Angel Fire. In 2016-17 she was a founding member of Bicycle String Trio, performing at the Norfolk Chamber Music Festival and Avaloch Farm Music Institute. Shannon also received generous support from the Sylva Gelber Foundation in Canada through their Award for career development.
Born in Canada, Shannon began studying violin at age four in Plano, Texas. She made her solo debut at the age of twelve with the Dallas Symphony Orchestra, and two years later performed in Europe with Maestro Christof Perick and the Nuremberg Philharmonic. Other notable appearances include with the Tokyo Symphony, Antwerp Symphony, Belgian National Orchestra, and New York String Orchestra in Carnegie Hall. Her debut recording, Introducing Shannon Lee, features 19th and 20th century violin-piano works, which Gramophone Magazine praised for Shannon's "technical command and fearless virtuosity."
Shannon studies with Jaime Laredo and Jan Mark Sloman at the Cleveland Institute of Music, where she has been the recipient of the inaugural Mary Hamlin Memorial Presidential Scholarship as well as the Starling Foundation Scholarship. She received a diploma from the Curtis Institute of Music in Philadelphia as a student of Ida Kavafian and Arnold Steinhardt. In Philadelphia, she also served as a Curtis ArtistYear Fellow under the mentorship of Mary Javian, developing the music program at Cramp Elementary Pre-K and working with All City Orchestra chamber music programs for high school students. Previously she completed her Bachelor's degree in computer science from Columbia University while taking violin lessons with David Nadien. In Texas, Shannon studied with Jan Sloman, and has played privately or in master classes for Guillaume Pirard, Boris Kushnir, and Rainer Schmidt.