Kyoko Takezawa, Japan – Gold Medalist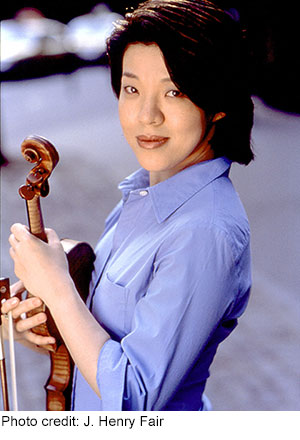 As the embodiment of musicality, violinist Kyoko Takezawa electrifies audiences with a richness of playing, a virtuosic confidence of feeling, and a fiery intensity that establishes her as one of today's foremost violinists. Ms. Takezawa's interpretive insight and indisputable talent have made her a sought-after soloist with many of the world's leading orchestras.
Ms. Takezawa has performed as soloist with such prominent ensembles as the New York Philharmonic, the Boston Symphony, the Philadelphia Orchestra, the Chicago Symphony, and the symphony orchestras of San Francisco, Cleveland, Baltimore, Saint Louis, Houston, Toronto, Dallas, Montreal, Detroit and Cincinnati. Abroad, she has been heard with the Academy of St. Martin in the Fields, the London Symphony, the Tonhalle Orchestra of Zurich, the Bavarian Radio Symphony Orchestra, the Dresden Staatskapelle, the Royal Concertgebouw Orchestra, the Royal Scottish National Orchestra, the Leipzig Gewandhaus Orchestra, Orchestra National de Radio France, Lyon and also Nice, the NHK Symphony, the Tokyo Metropolitan Symphony and the New Japan Philharmonic. She has collaborated with many distinguished conductors including Seiji Ozawa, Sir Colin Davis, Michael Tilson Thomas, Wolfgang Sawallisch, Kurt Masur, Sir Neville Marriner, Leonard Slatkin, Charles Dutoit, Marek Janowski and Sir Andrew Davis. She has performed at major venues around the world, notably Carnegie Hall in New York, the Kennedy Center in Washington, D.C., London's BBC Proms, the Musikverein in Vienna and Suntory Hall in Tokyo.
In recent seasons, Ms. Takezawa has made her debut appearances with Magdeburg Philharmonic Orchestra in Germany, Mito Chamber Orchestra in Japan, Spring Festival in Korea, Music in the Vineyard Festival, Santa Fe Festival, Music @ Menlo Festival and Saratoga Spring Festival in the U.S. Also she was a jury member for the International Violin Competition of Indianapolis, Concours international Marguerite-Long-Jacques-Thibaud, Sendai International Competition and the International Wieniawski Violin Competition.
In past seasons, she has performed with the Vancouver Symphony, the West Australian Symphony, the Kymi Sinfonietta in Finland, the NHK Symphony, Kanagawa Philharmonic, Osaka Century Orchestra and the Japan Philharmonic. In North America she performed with the Amarillo, St. Louis, Tucson, Jacksonville, Charlotte, Toronto and Seattle symphonies. She also performed with the China Philharmonic, the Hong Kong Philharmonic, the Japan Philharmonic, Singapore, Guangzhou, Tokyo Metropolitan Symphony, Tokyo City Philharmonic, Denmark's Aarhus Symphony, France's Orchestre National de Lille, and Manchester's Halle Orchestra. She also appeared as the feature soloist on the Hamburg NDR Symphony tour of Japan.
A highly accomplished chamber music performer, Ms. Takezawa has participated in the Grand Teton Music Festival, the Aspen Music Festival, the La Jolla Chamber Music Festival, the Casals Festival and the Hong Kong International Chamber Music Festival. She has been a regular guest for the La Folle Journée Festival in Japan. Ms. Takezawa's chamber music performances have drawn high praise, and as co-director of the Suntory Festival Soloists of Suntory Hall in Tokyo, she has collaborated with Yo-Yo Ma, Wolfgang Sawallisch, Joseph Suk, the late Isaac Stern and many other distinguished artists.
A prolific recording artist, she has just released her most recent recording of the Brahms Violin Sonatas with pianist Itamar Golan by Sony Music Japan. Other recordings are heard on BMG's RCA Victor Red Seal label, a recital CD titled Romanza, on which she performed short pieces; the Concerto for Violin and Orchestra, Op. 14, by Samuel Barber with Leonard Slatkin and the Saint Louis Symphony Orchestra; the Brahms Violin Concerto and the Elgar Violin Concerto with Sir Colin Davis and the Bavarian Radio Symphony Orchestra; the Violin Concerto No. 2 by Bartók with Michael Tilson Thomas and the London Symphony; and the Mendelssohn Concertos Nos. 1 and 2 with Claus Peter Flor and the Bamberg Symphony. Ms. Takezawa's recording of French violin sonatas was selected as one of the best recordings of 1993 by Stereo Review.
Ms. Takezawa has numerous television credits including "Concerto!", the program on which she performed Bartók's Second Violin Concerto guided by Dudley Moore on the BBC Channel 4, the Morning Show by A&E and a two hour documentary program by TV Aichi in Japan.
Ms. Takezawa began violin studies at the age of three and at seven toured the United States, Canada and Switzerland as a member of the Suzuki Method Association. In 1982 she placed first in the 51st Annual Japan Music Competition, and at 17 she entered the Aspen Music School to study with Dorothy DeLay, with whom Ms. Takezawa continued to study at The Juilliard School until graduating in 1989. In 1986 she was awarded the Gold Medal at the Second Quadrennial International Violin Competition of Indianapolis. As an educator, she is on the faculty of the Toho Music School in Japan and served as a jury for the International Violin Competition of Indianapolis and the Menuhin Competition. Most recently, she received the prestigious Idemitsu Award for outstanding musicianship and Aichi Art Cultural Award.
Leonidas Kavakos, Greece – Silver Medalist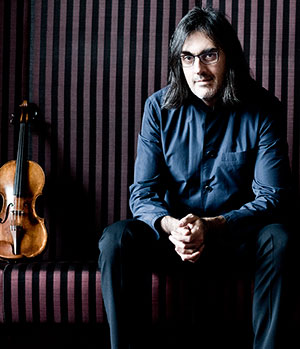 Leonidas Kavakos is recognized across the world as a violinist and artist of rare quality, acclaimed for his matchless technique, his captivating artistry and his superb musicianship as well as for the integrity of his playing. He works with the world's greatest orchestras and conductors and plays as recitalist in the world's premier recital halls and festivals. He is an exclusive recording artist with Sony Classical.
The three important mentors in his life have been Stelios Kafantaris, Josef Gingold, and Ferenc Rados, with whom he still works. By the age of 21, Leonidas Kavakos had already won three major competitions: the Sibelius Competition in 1985, and the Paganini and Naumburg competitions in 1988. This success led to him recording the original Sibelius Violin Concerto (1903/4), the first recording of this work in history, and which won Gramophone Concerto of the Year Award in 1991.
Kavakos is now an exclusive recording artist with Sony Classics. His latest recording is the Beethoven Concerto which he conducted and played with the Bavarian Radio Symphony Orchestra, coupled with the Beethoven Septet played with members of the orchestra. In the anniversary year, Kavakos will both play and play/conduct the Beethoven concerto with orchestras across Europe and the USA. He will also play the complete Beethoven Sonata cycle in Shanghai and Guangzhou, Milan and Rome, and a number of single Beethoven recitals in various cities including London's Wigmore Hall, Barcelona, Parma and Copenhagen.
In 2007, for his recording of the complete Beethoven Sonatas with Enrico Pace, Kavakos was named Echo Klassik Instrumentalist of the year. In 2014, Kavakos was awarded Gramophone Artist of the Year.
Further accolades came in 2017 when Kavakos was awarded the prestigious Leonie Sonning Prize – Denmark's highest musical honor, given annually to an internationally recognized composer, conductor, instrumentalist or singer.
August 2019 was a full and rewarding month: after the Verbier Festival where he appeared in recital with Evgeny Kissin and conducted the Verbier Festival Chamber Orchestra in a program in which he played Mozart's Sinfonia Concertante with Antoine Tamestit, he joined Yo-Yo Ma and Emanuel Ax at the Tanglewood Music Festival for a program of Beethoven Piano trios, in a duo recital with Ax of Beethoven Sonatas, and in an orchestral concert with the Boston Symphony in which he played and conducted Beethoven's Violin Concerto and Dvorák Symphony No. 7.
Kavakos was also invited as "Artiste Etoile" at the Lucerne Festival where he appeared with the Lucerne Festival Orchestra with Yannick Nezet-Seguin, Mariinsky Orchestra with Valery Gergiev, Vienna Philharmonic with Andes Orozco Estrada, and in recital with Yuja Wang.
Leonidas Kavakos has succeeded in building a strong profile as a conductor and has conducted the London Symphony Orchestra, New York Philharmonic, Houston Symphony, Dallas Symphony, Gürzenich Orchester, Budapest Festival Orchestra, Vienna Symphony, Chamber Orchestra of Europe, Orchestra dell'Accademia Nazionale di Santa Cecilia, Maggio Musicale Fiorentino, Filarmonica Teatro La Fenice, and the Danish National Symphony Orchestra. In the forthcoming season he will return to two orchestras where he has developed close ties as both violinist and condcutor: L'Orchestre de la Suisse Romande and L'Orchestre Philharmonique de Radio France. This season he also play/conducts the Czech Philharmonic, Deutsches Symphonie-Orchester Berlin, and the Orchestra Sinfonica Nazionale della RAI.
Born and brought up in a musical family in Athens, Kavakos curates an annual violin and chamber-music masterclass in Athens, which attracts violinists and ensembles from all over the world and reflects his deep commitment to the handing on of musical knowledge and traditions. Part of this tradition is the art of violin and bow-making, which Kavakos regards as a great mystery and to this day, an undisclosed secret.
He plays the 'Willemotte' Stradivarius violin of 1734 and owns modern violins made by F. Leonhard, S.P. Greiner, E. Haahti and D. Bagué.
Andrés Cárdenes, United States – Bronze Medalist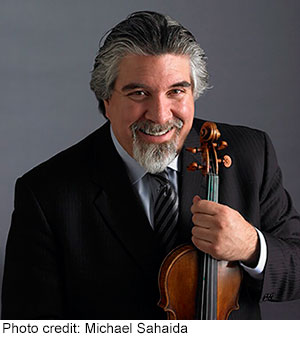 Recognized worldwide as a musical phenomenon, Grammy-nominated Andrés Cárdenes parlays his myriad talents into one of classical music's most versatile careers. A ferocious, passionate and personally charismatic artist, Cuban-born Cárdenes has garnered international acclaim from critics and audiences alike for his compelling solo violin, conducting, viola, chamber music, concertmaster and recorded performances.
Since capturing the Second Prize in the 1982 Tchaikovsky International Violin Competition in Moscow, Mr. Cárdenes has appeared as soloist with over one hundred orchestras on five continents, including those of Philadelphia, Pittsburgh, Los Angeles, St. Louis, Moscow, Bavarian Radio, Dallas, Helsinki, OFUNAM, Shanghai, Caracas and Barcelona. He has collaborated with many of the world's greatest conductors, including Lorin Maazel, Rafael Frühbeck de Burgos, Mariss Jansons, Charles Dutoit, Christoph Eschenbach, Sir André Previn, Leonard Slatkin, Jaap van Zweden, Sir Neville Marriner, David Zinman and Manfred Honeck.
Mr. Cárdenes is in great demand as a conductor. His appearances with the Bavarian Radio, Detroit Symphony, Colorado Symphony, Dallas Symphony, Neue Philharmonie Westfalen, Sinfónica Nacíonal de Bogota, San Diego Symphony, Sinfónica de Caracas, Orquesta Fundacíon Beethoven (Santiago, Chile), and the OFUNAM Orchestra of Mexico City have received rave reviews. Headlines proclaimed "Cárdenes conducts Pittsburgh Symphony with epic mastery" (Pittsburgh Tribune-Review) after stepping in for an ailing Robert Spano. Mr. Cárdenes served as Artistic Director and Leader of the Pittsburgh Symphony Chamber Orchestra from its inception in 1999 through 2009. He is currently Music Director of Orchestral Studies at Carnegie Mellon University.
A prolific recording artist, Cárdenes has interpreted concerti by Brahms, Mendelssohn, Beethoven, Barber, Balada, Gutíerrez, and David Stock on the Artek, Naxos and Albany labels. He has recorded the complete works for violin by Leonardo Balada, and the complete violin and piano sonatas by Hindemith and Schubert. This year and next Mr. Cárdenes continues his project to record many standard and contemporary concerti. February 2019 releases featured Romances for Violin and Harp with Gretchen van Hoesen on CDBaby, the Chausson Concerto with the Vega Quartet and the Fauré Sonata on Artek. Cárdenes' discography includes over three dozen recordings of concerti, sonatas, short works, orchestral and chamber music on the Ocean, Naxos, Sony, Arabesque, Albany, Delos, RCA, ProArte, Telarc, Artek, Melodya and Enharmonic labels.
Cárdenes is the co-founder and Artistic and Music Director of the Josef Gingold Chamber Music Festival of Miami, a program geared towards educating young musicians in chamber music and solo repertoire, inspired by the teachings, legacy, humanity and ideology of the legendary violinist. He has been the violinist of the world-renowned Díaz Trio since 1995 and the Carnegie Mellon Trio since 1989.
A champion of contemporary composers, Cárdenes has premiered and/or recorded over 60 works by diverse composers such as Ricardo Lorenz, David Stock, Leonardo Balada, Elbert Lechtman, Timothy Adams, Beatrice Bilbao, Marilyn Taft Thomas, Erberk Eryilmaz, Ramiro Cortés, Roberto Sierra and Gunther Schuller.
Mr, Cardenes has served on the juries of the Tchaikovsky, Schoenfeld, Osaka and Oliveira International Violin Competitions, and thriced served as President of the Jury of the Stradivarius International Violin Competition.
The year 2021 marks the 44th anniversary of Mr. Cárdenes' renowned teaching and pedagogical career, which began as an assistant to his teacher and mentor Josef Gingold at Indiana University. Today, Mr. Cárdenes continues Professor Gingold's legacy and discipline while holding the title of Distinguished Professor of Violin Studies and the Dorothy Richard Starling/Alexander Speyer Jr. Endowed Chair at Carnegie Mellon University's School of Music. In addition, Cárdenes gives master classes regularly at the Royal Conservatory of Music in Toronto, Masterclass Al-Andalus, Sibelius Akademie, Manhattan School, Shanghai Conservatory, Moscow and St. Petersburg Conservatories, Cleveland Institute, Curtis Institute, and at virtually every major university and conservatory in the United States, Europe, Asia and South America.
Among his many humanitarian awards are the Kollell Foundation Jewish Learning Award, the Kindness Award from Chabad, Mexican Red Cross and the UNICEF Cultural Ambassadorship.
Mr. Cárdenes is the father of two teenagers, Isabel, an accomplished young harpist studying at the Manhattan School of Music, and Tino, a math whiz and talented classical/jazz pianist.
Chin Kim, South Korea – Fourth Place Laureate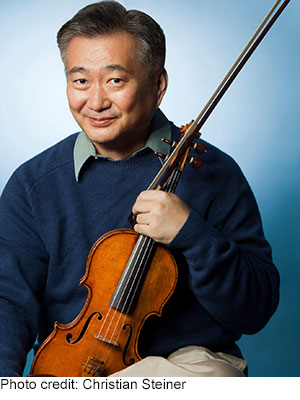 Acclaimed for his deep musicality and virtuosity, Chin Kim, one of the most versatile and sought-after violinists today, has been concertizing extensively throughout North America, Asia, and Europe as guest artist with orchestras as those of Philadelphia, St. Louis, Montréal, and Atlanta with conductors like Leonard Slatkin, John Nelson, Myung Whun Chung, and Sixten Ehrling. As recitalist, Mr. Kim appeared in major halls of New York, Boston, Philadelphia, Chicago, Montréal, Toronto, Brussels, and Seoul. Top prizewinner in several of the most prestigious international violin competitions including the Concours International de Musique de Montréal, the Queen Elisabeth Competition, the Paganini Competition, and the International Violin Competition of Indianapolis, Mr. Kim's recent concerts include the performance of Bernstein's Serenade with the Atlanta Symphony, Barber Concerto with Wayne Chamber Orchestra, and the Glazunov Concerto with the Czech Philharmonic.
Mr. Kim's debut recording of Prokofiev's Violin Concerto No. 2 in g minor with the St. Petersburg Philharmonic (Russia) under the baton of Paul Freeman, and the Prokofiev Sonata No. 2 in D Major with pianist David Oei, was released on the ProArte/Fanfare label. His second CD consisting of the Mendelssohn c minor, and the Tchaikovsky Piano Trio with the "Starr-Kim-Boeckheler Piano Trio" was released on the Mastersound label, and his most recent CD, the Glazunov and Tchaikovsky Concertos was recorded by the Intersound/Fanfare label following the performances of the Concertos with the Moscow Philharmonic in the Tchaikovsky Hall in Moscow, all to high critical acclaim. "Virtuoso," "musically assertive," "rich, golden tone" and "perceptive" are words of critical acclaim describing Mr. Kim's performance of the Prokofiev Concerto No. 2 and Prokofiev Sonata No. 2 compact disc, "Kim's deep, into-the-strings tone reminded me of a very favorite recording, the old David Oistrakh Soviet monaural recording," "more than enough technique to master these pieces" are words describing the Tchaikovsky, and the Glazunov Concertos recording.
Chin Kim is the recipient of the Nan-Pa Prize awarded by the Nan-Pa Foundation in Korea, which is one of the highest honors given to a Korean-born musician. He graduated from the Curtis Institute of Music and, subsequently from The Juilliard School where he received the Petschek Award and won the Concerto Competition which led to the performance of the Glazunov Concerto with the Juilliard Philharmonia in Lincoln Center. With his busy performing schedule, he also teaches at the Mannes College of Music in New York. His major teachers include Dorothy DeLay, Ivan Galamian, and Josef Gingold.
Sungsic Yang, South Korea – Fifth Place Laureate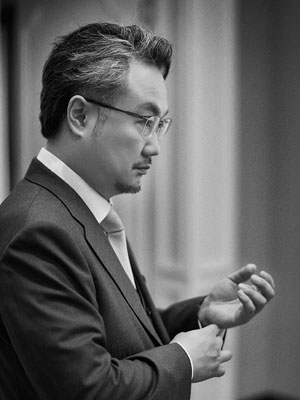 The first grand prize winner of the 1988 Carl Flesch International Violin Competition in London, Sungsic Yang has established himself as one of the leading violinists of his generation. Mr. Yang's international career includes performances with the Royal Philharmonic Orchestra under Sir Yehudi Menuhin, the Scottish National Symphony, the London Mozart Players, the National Philharmonic Orchestra of Ireland, the Leningrad Chamber Orchestra, the Warsaw Chamber Orchestra, the Gavleborgs Symphony Orchestra in Sweden, the Stavanger Philharmonic in Norway, the Monte Carlo Philharmonic Orchestra under Lawrence Foster, the Orchestra Symphonique Français under Laurent Petitgirard, the London BBC Symphony Orchestra under Andrew Davis, and the Moscow Philharmonic Orchestra under Dmitri Kitayenko, with whom a live recording of the Mendelssohn and Tchaikovsky concertos have subsequently been released under the label CBS Korea. Following the success of this first collaboration, he was invited back to perform and record the Brahms and Sibelius violin concertos for Sony Classical Korea in Moscow. At the request of Lorin Maazel, Sungsic Yang made his Paris concerto debut in 1988 with the Orchestre National de France at the occasion of the conductor's first subscription concert as the music director of the orchestra. In addition to several studio recordings with the BBC Concert Orchestra and for Radio France, Mr. Yang's European tour with the Seoul Philharmonic, the Scottish National Youth Orchestra, and the Gulbenkian Philharmony of Portugal has taken him to Barcelona, Frankfurt, Amsterdam (Concertgebow Hall), Rotterdam, Glasgow, Dublin, Budapest and throughout England. His recitals in prestigious Halls such as Salle Gaveau in Paris, Wigmore Hall in London, Merkin Hall in New York were unanimously acclaimed both by the critics and the audiences. Sungsic Yang was born in Seoul, Korea, and started playing the violin at the age of four.
While still only eleven he performed in recital and made his concerto debut performing the Mendelssohn concerto with the Seoul Philharmonic Orchestra. Upon his graduation from the Conservatoire National Supérieur de Musique de Paris, he was awarded a full scholarship to study with Yfrah Neaman at the Guildhall School of Music and Drama in London, England, until graduation in 1987. At the age of seventeen, he was awarded the third prize at the Paganini International Competition, and other international prizes were awarded from the Long-Thibaud, Lipizer, and Indianapolis International Competitions.
In recent years, he was invited to represent Korea as a member of jury at the prestigious Long-Thibaud violin competition in Paris, the Paganini competition in Genoa, Jeunesse International Music competition in Belgrade, as well as Munetsugu competition in Nagoya, Japan. His recording "The Streghe," works by Paganini for violin and guitar, is a record-setting success in Korea and is now becoming very popular in abroad as well.
In September 2009 he was appointed Professor of Violin in Daegu Catholic University, and he has launched a new string chamber group the "Erato Ensemble" as the Music Director.
Annick Roussin, France – Sixth Place Laureate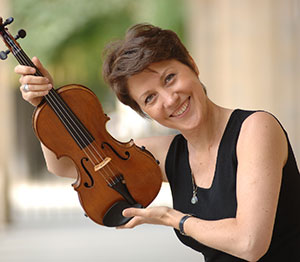 Annick Roussin started her musical training with Michèle Auclair at the Paris CNSMD – Conservatoire National Supérieur de Musique et de Danse. In 1977 she won the first violin prize and the first music chamber prize. She started an international career after having won several great prizes of international competitions (Long-Thibaud in 1979, Geneva in 1980, Tchaikovsky in 1982). She performed with orchestras like the Orchestre de la Suisse Romande, the Collegium of Bâle, the Westfalisches Sinfonie-Orchester, the Radio Orchestra of Francfort and Stuttgart, the Limburgs Symfonie Orkest, the Morave Philharmony, and the philharmonic orchestra of Monte-Carlo, as well as several French orchestras (The Capitole Orchestra of Toulouse, the philharmonic Orchestra of Pays de Loire) and with well-known orchestra leaders like Vaclav Neumann, John Nelson, Charles Bruck, Karl Anton Rickenbacher, Serge Baudo, Roberto Benzi, and Michel Plasson.
Annick is not only a soloist but she spends also a lot of time for the chamber music. She is invited in many festivals in France (Prades, Muiscades de Lyon, and others) and in the United States, Japan, Finland, Italy, Germany and elsewhere. Annick is complimented by the music critics for her concerts as well as her CD recordings (on the Harmonia Mundi, Accord, 3D, Calliope, and Grave labels). She was then successively appointed assistant for the Christian Ivaldi chamber music class, for Alain Moglia's violin class, and for Boris Gartlitzky's at the Paris CNSMD.
Annick is currently a violin teacher at the Paris C.R.R., and she regularly gives master classes in Finland, the United States, and Canada.