Juliette Kang, Canada – Gold Medalist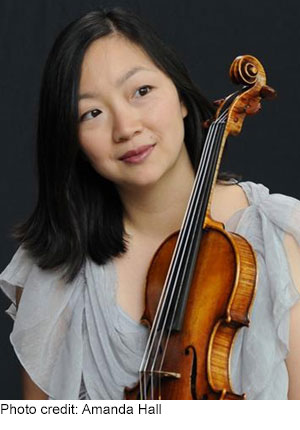 Appointed first associate concertmaster of The Philadelphia Orchestra in 2005, Canadian violinist Juliette Kang enjoys an active and varied career. Previously assistant concertmaster of the Boston Symphony and a member of the Metropolitan Opera Orchestra, Ms. Kang's solo engagements have included the San Francisco Symphony, l'Orchestre National de France, the Baltimore Symphony, the Boston Pops, the Omaha Symphony, the Syracuse Symphony, and every major orchestra in Canada. Internationally she has performed with the Czech Philharmonic, the Vienna Chamber Orchestra, the Singapore Symphony, the Hong Kong Philharmonic, and the KBS Symphony in Seoul. She has given recitals in Paris, Tokyo, and Boston. In 1994 she won first prize of the International Violin Competition of Indianapolis and was presented at New York's Carnegie Hall in a recital that was recorded live and released on CD. She has also recorded the Schumann and Wieniawski violin concertos with the Vancouver Symphony for CBC Records.
In 2012 Ms. Kang was again a featured soloist at Carnegie Hall for the visit of her hometown orchestra, the Edmonton Symphony, and that season she made her Philadelphia Orchestra subscription debut with guest conductor Gianandrea Noseda. She is a regular soloist with the PO, most recently performing Bruch Scottish Fantasy with Music Director Yannick Nézet-Séguin.
Ms. Kang has been involved with chamber music since studying at the Curtis Institute of Music. Festivals she has participated in include Bravo! Vail, Bridgehampton (Long Island, NY), Kingston (RI), Marlboro, Moab (UT), Skaneateles (NY), and Spoleto USA. In New York she has performed with the Chamber Music Society of Lincoln Center; at the Mostly Mozart Festival with her husband, cellist Thomas Kraines; and at the Bard Music Festival.
After receiving a Bachelor of Music degree at age 15 from Curtis as a student of Jascha Brodsky, Ms. Kang earned a Master of Music degree at the Juilliard School under the tutelage of Dorothy Delay and Robert Mann. She was a winner of the 1989 Young Concert Artists Auditions, and she subsequently received first prize at the Menuhin Violin Competition of Paris in 1992. She serves on the Central Board of Trustees of Philadelphia's Settlement Music School, one of the oldest and largest community schools of the arts in the country, founded in 1908 and having served more than 300,000 students since.
Stefan Milenkovich, Yugoslavia – Silver Medalist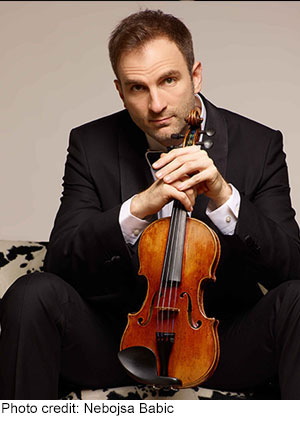 Serbia's Artist of the Century, Most Humane Person, and Brand Personality of the Year, violinist Stefan Milenkovich enjoys a prolific career as an internationally sought-after soloist and recitalist, with an extraordinary productive longevity, professionalism and creativity.
Established as one of the foremost violinists of his generation, Milenkovich appeared on multiple occasions in some of the world's most celebrated venues such as Carnegie Hall, New York City (USA), Kennedy Center, Washington (USA), Cadogan Hall, London (UK), Suntory Hall, Tokyo (Japan), as well as Italy's theatres La Fenice, Venice, San Carlo, Naples, and Petruzzelli, Bari. His numerous appearances with orchestra include Indianapolis Symphony Orchestra, Berlin Symphony Orchestra, Orpheus Chamber Orchestra, Aspen Chamber Symphony, Helsinki Philharmonic, NDR Radiophilharmonie Hannover Symphony Orchestra, Orchestra of Radio-France, Bolshoi Theatre Orchestra, National Orchestra of Belgium, Mexico State Symphony, Orquestra Sinfonica de Estado de Sao Paolo, and the Melbourne and Queensland Symphonies, and has performed under the baton of such conductors as Sir Neville Marriner, Lorin Maazel, Vladimir Fedoseyev, and Daniel Oren.
Milenkovich started his career at a very young age. He performed for U.S. President Ronald Reagan at a Christmas concert in Washington, DC, at age 10. The following year, he played for Mikhail Gorbachev in Belgrade, Serbia. At age 14, he played for Pope John Paul II and at age 16, Milenkovich gave his 1000th concert in Monterrey, Mexico. By age 17, he was the winner of The Young Concert Artists International Competition (USA), as well as a prizewinner in the International Violin Competition of Indianapolis (USA), the Queen Elisabeth Competition (Belgium), Hannover Violin Competition (Germany), Tibor Varga Competition (Switzerland), Rodolfo Lipizer Competition (Italy), Paganini Competition (Italy), Ludwig Spohr Competition (Germany), and the Yehudi Menuhin Competition (England). 
Deeply committed to international humanitarian causes, in 2002 Milenkovich received the Lifting Up the World With Oneness Heart award for his humanitarian activities, handed to him personally by the guru Sri Chinmoy. He also participated in a number of gala concerts under the auspices of UNESCO in Paris with such artists as Placido Domingo, Lorin Maazel, Alexis Weissenberg, and Sir Yehudi Menuhin, and was active as the First Child Ambassador during the Balkan wars in early 90s.
As a musician of broad stylistic interests, Milenkovich performed with five-time Grammy Nominee rock band Gorillaz in one of the world's most renowned venues – Apollo Theater in Harlem, New York City. The critically acclaimed performance was featured live on MTV. Recent collaborations include performances with Grammy Award Nominee lutist Edin Karamazov, as well as a musical partnership with guitarist Vlatko Stefanovski and his trio, where Milenkovich explored the realm of improvisation and acoustic-electric violin.
Milenkovich's discography includes four commercial releases of the Italian label Dynamic, featuring J. S. Bach Complete Sonatas and Partitas for Solo Violin, Complete Music for Solo Violin – Nicolo Paganini 24 Capricci, N. Paganini Recital, and N. Paganini In cuor piu non mi sento. He also released numerous recordings for the Yugoslavian label, PGP. Milenkovich's recent CD release includes a First Recording disc with the Manchester Music Festival of Vittorio Giannini's Piano Trio and Piano Quintet.
Firmly dedicated to pedagogical work, Milenkovich taught in collaboration with Itzhak Perlman at the Juilliard School in New York City, NY, and Perlman Music Program, before accepting his current position as an Associate Professor of Violin at the University of Illinois at Urbana-Champaign. Milenkovich is still the youngest graduate of the Music Academy in Belgrade, Serbia, finishing his Masters' studies at 19 years of age, and has completed the Professional Studies program at the Juilliard School in New York City, NY under tutelage of Mrs. Dorothy DeLay.
Milenkovich plays a 1783 Giovanni Battista Guadagnini violin. 
David Chan, United States – Bronze Medalist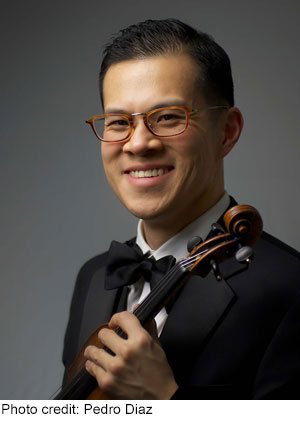 David Chan is quickly making a name for himself as an elegant conductor of unusual interpretive depth.  The 2021-22 season marks not only his 22nd as concertmaster of New York's MET Orchestra, but also his fifth as the inaugural Music Director of New Jersey's Montclair Orchestra, with which he has already earned high praise for innovative and adventurous programming, and his fourth as Music Director of Camerata Notturna, one of New York City's foremost chamber orchestras.  He also serves as Artistic Partner of Mainly Mozart's prestigious Festival of Orchestras, for which he recently conducted an entire festival combining musicians of the Los Angeles Philharmonic and the San Francisco Symphony, and another series bringing together members of the MET Orchestra and the National Symphony Orchestra.
Increasingly in demand on the podium, Chan's conducting engagements in recent seasons have included Belgium's l'Orchestre Philharmonique Royal de Liège, the Malta Philharmonic Orchestra, and l'Orchestre Dijon Bourgogne in France; the Grant Park and Classical Tahoe summer festivals; the Juilliard Orchestra in New York City; and at Musique et Vin au Clos Vougeot, where the festival orchestra comprises musicians from the Metropolitan Opera, the Berlin Philharmonic, the Vienna Philharmonic, and all of the top orchestras in Paris.  As a soloist, he has appeared under the baton of such conductors as James Levine and Fabio Luisi, with orchestras including the MET Orchestra, Los Angeles Philharmonic, San Diego Symphony, Indianapolis Symphony, National Symphony Orchestra of Taiwan, and Moscow State Symphony.  He is also a dedicated chamber musician who performs regularly in the New York area and at all the leading summer festivals. 
In addition to his concert appearances, Chan is active as an entrepreneur and creative director.  In 2008, combining his interest in wine with his passion for music, he co-founded the Musique et Vin au Clos Vougeot festival in the Burgundy region of France.  During his 13 seasons as artistic director of the festival, which pairs wine tastings with music, he oversaw its growth from a small, intimate gathering to a destination event attracting many of the biggest names in classical music, such as Yo-Yo Ma, Joyce DiDonato, Jean-Yves Thibaudet, Matthew Polenzani, Emmanuel Pahud, Menahem Pressler, Cho-Liang Lin, Gary Hoffman, Marlis Petersen, and Ildar Abdrazakov.
A native of San Diego, Chan began his musical education at the age of four. After winning prizes at the Tchaikovsky and Indianapolis international violin competitions, he made his New York debut in 1995 at Avery Fisher Hall, and his Carnegie Hall debut in 2003, performing the Brahms Double Concerto with the MET Orchestra. A student of Dorothy DeLay, Hyo Kang, and Michael Tseitlin, he received his bachelor's degree from Harvard University and his master's from the Juilliard School. He is currently on the faculty of both Juilliard and the Mannes School of Music, and lives in the New York City area with his wife, violinist Catherine Ro, and their children Annalise, Micah, and Arianna.
Jaakko Kuusisto, Finland – Fourth Place Laureate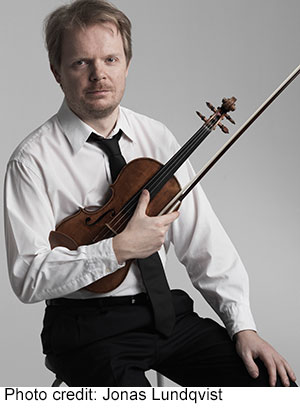 Jaakko Kuusisto is one of Finland's most versatile musicians, with a busy schedule as violinist, conductor and composer. Having won prizes at several international violin competitions, he is a frequent guest artist with Finnish orchestras and festivals. He is known for a wide variety of repertoire, also including music outside the classical genre. He is artistic director of the Oulu Music Festival, and also serves as artistic advisor to the Oulu Festivo student orchestra. Jaakko Kuusisto studied violin with professors Géza Szilvay and Tuomas Haapanen at the Sibelius Academy in Helsinki.
His musical career was launched in 1989 when, at the age of 15, he won the national violin competition in Kuopio. He continued his studies with Miriam Fried and Paul Biss at Indiana University and was awarded prizes at major international violin competitions, including the Sibelius, Indianapolis, and Carl Nielsen competitions, and he was a finalist at the Queen Elisabeth Competition. He has performed as soloist with the Minnesota Orchestra, Sydney Symphony, Belgian National Orchestra, Deutsches Symphonie-Orchester, BBC and the BBC Scottish Symphony Orchestras, Iceland Symphony, Malaysian Philharmonic, Staatsorchester Rheinland-Pfalz, and most Finnish orchestras, including the Finnish Radio Symphony, Helsinki Philharmonic, and Tapiola Sinfonietta. His collaboration with the Lahti Symphony Orchestra has been an important part of his career. He served as concertmaster from 1998 to 2012, during which time his role at the orchestra came to include solo appearances and conducting.
He has recorded Rautavaara's violin concerto and Aho's Symphony No. 3 for violin and orchestra and has served as soloist in many concerts both in Lahti and on tour. Kuusisto's violin recordings include several CDs of Sibelius' violin works, the concertos of Pulkkis, Rautavaara, and Sallinen, as well as concertos by Bach and sonatas by Prokofiev performed together with his brother Pekka Kuusisto. He regularly conducts the orchestra in concerts and recordings with a wide variety of repertoire, including symphony concerts, popular/rock programs and recordings. As guest conductor, he has worked with, among others, the Minnesota Orchestra, the Sydney, Melbourne and Adelaide Symphonies, de Filharmonie in Antwerp, BBC Concert Orchestra, Finnish Radio Symphony, Tapiola Sinfonietta, Helsinki Philharmonic, Central Ostrobothnia Chamber Orchestra, the Belgian Royal Philharmonic, the Trondheim Symphony Orchestra, the Västeräs Sinfonietta, and Lithuanian Chamber Orchestra, the Joensuu City Orchestra, and in Tampere, Vaasa, Jyväskylä, Kuopio, Pori, with the chamber orchestras of Lausanne and Tallinn, and the Savonlinna Festival Opera. He has had an extended collaboration with the Oulu Symphony, serving as principal guest conductor from 2005 to 2009. His conducting has led to a number of Lahti Symphony Orchestra's concerts and recordings, including joint productions with the orchestral and vocal group Limitless.
Kuusisto studied composition with Eero Hämeenniemi at the Sibelius Academy and David Dzubay at Indiana University. His compositions include three operas, several chamber music works, and music for motion pictures. His string quartet "Play III" (2008) has received international attention, and his works have been premiered at major festivals, including the Ravinia Festival and Kuhmo Chamber Music. His family opera "The Canine Kalevala" was premiered at the Savonlinna Opera Festival and has since been staged several times and also released on DVD. His most recent work is a Violin Concerto dedicated to Elina Vähälä, premiered with the Lahti Symphony in 2012.
Kuusisto plays a Matteo Goffriller violin dated 1702.
Michiko Kamiya, Japan – Fifth Place Laureate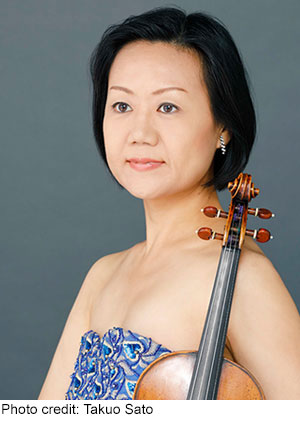 Born in Nagoya, Japan, Michiko Kamiya started playing the violin at the age of 5 and studied with Noriko Kitagaki, the late Ryosaku Kubota, and Koichiro Harada. After completing the soloist diploma course at Toho Gakuen School of Music with top honors, she studied with the late Dorothy DeLay and Masao Kawasaki at The Juilliard School and with Gyorgy Pauk in London. Her career has brought a series of competition successes from the age of eleven onwards. Her early victories were followed in 1990 with the award of a diploma as a finalist in the 59th Japan Music Concours. In addition to being a 1994 International Violin Competition of Indianapolis Laureate, Ms. Kamiya is a recipient of the 2nd prize at the 39th International Violin Competition "Premio Paganini" and the 1st prize at the Hannover Joachim International Violin Competition in 1997.
She has collaborated with many leading orchestras in Japan and the world such as NHK Symphony Orchestra, Tokyo Metropolitan Symphony Orchestra, Yomiuri Nippon Symphony Orchestra, Stockholm Chamber Orchestra, Singapore Symphony Orchestra, and others. She performed with Vienna Philharmonic members at the Toyota Millennium Concert, and she appeared at the Seven Stars Gala Concert (produced by Myung-Whun Chung). Her appearance with these orchestras as well as her recitals given in Tokyo, Frankfurt, Helsinki received great critical acclaim. In April 2000, Ms. Kamiya performed with the Vienna Philharmonic members at the Toyota Millennium Concert. In May she appeared at the Seven Stars Gala Concert (produced by Myung-Whun Chung), and in July was invited to Kuhmo Chamber Music Festival. In December, she appeared with NHK Symphony Orchestra under the baton of Charles Dutoit and received favorable review. In January 2001, she made a success of her concert tour in UK with the London Philharmonic Orchestra as a soloist, and also won praise when she played Mendelssohn's concerto under the baton of Myung-Whun Chung in Tokyo in September. She also has shared the stage with distinguished artists such as Janos Fürst, Rudolf Barshai, Raymond Leppard, Kyoko Takezawa, and David Geringas. Ms. Kamiya studied chamber music with the Tokyo String Quartet and is in much demand appearing in cities including Frankfurt, Helsinki, and Tokyo. She has also participated in music festivals such as Ravinia, Vervier, Aspen, Kuhmo, and the Holland Music Sessions.
In 2006, she formed the Apollo String Quartet to fulfill her wish to perform chamber music. The quartet gave debut recitals in Tokyo and Nagoya to much critical acclaim. Ms. Kamiya held a position at the École Normale de Music de Paris until recently and was a jury member for the Japan Music Competition in 2009 and 2010. Ms. Kamiya's debut CD released from Naxos label has received semi-highest honor on the magazine "Record Geijutsu," and her second album is to be released.
Robin Sharp, United States – Sixth Place Laureate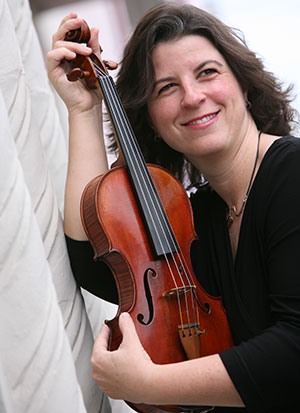 Violinist Robin Sharp is a solo performer, chamber musician, concertmaster, and teacher. Ms. Sharp is on the music faculty at Stanford University as Full-time Lecturer in Violin and Chamber Music, and also maintains a private teaching studio. She performs as Concertmaster of the San Francisco Chamber Orchestra and is frequently featured as soloist. Her chamber music engagements include ongoing collaborations with the Saint Michael Trio, the ensemble in residence at the Montalvo Arts Center, and with the Prospect Park Chamber Players. Ms. Sharp played in the San Francisco Symphony violin sections for several seasons, and is currently an active substitute violinist with them.
Ms. Sharp has appeared in recital at many prestigious venues including Carnegie Hall in New York, the Musikverein in Vienna, the Concertgebouw in Amsterdam, the National Music Hall in Taipei, and the Palace of the Legion of Honor in San Francisco where she performed on Jascha Heifetz's Del Gesu violin.
She has participated in music festivals worldwide, including California Summer Music, the Musikalischer Sommer Festival in Germany, the Marlboro Music Festival, the Aspen Music Festival, the Sandor Vegh masterclasses at Prussia Cove, and the Isaac Stern Seminar in New York. She has formerly served as first violinist of the Ives String Quartet, which toured nationally, and was based in California.
In 2010, a violin concerto called "Haili Lirico" was written for Ms. Sharp by composer Gabriela Lena Frank, in remembrance of her father, Terry Sharp. In January 1998 Ms. Sharp represented Carnegie Hall in their Rising Stars Series, when she and her then duo partner Jeremy Denk played a recital at Carnegie's Weill Recital Hall following a European tour. The duo also performed on Carnegie Hall's main stage under the guidance of Isaac Stern.
She formerly served as concertmaster for the Berkeley Symphony with conductor Kent Nagano for six seasons, and was a guest concertmaster for both a festival concert in Germany under the baton of conductor Vladimir Ashkenazy, and also as guest concertmaster with the Seattle Symphony with conductor Gerard Schwartz.