Jinjoo Cho, South Korea – Gold Medalist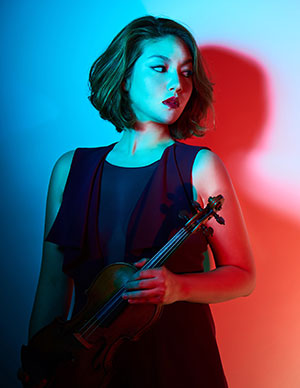 Violinist Jinjoo Cho is redefining what it means to be a classical artist in the 21st Century as a charismatic soloist, dynamic and engaging chamber musician, dedicated teacher, innovative artistic director, and published writer.
Jinjoo's technical and artistic skills have been tested and proven as 1st Prize Winner of the world's most prestigious competitions such as the International Violin Competition of Indianapolis and Concours musical international de Montréal in addition to the Buenos Aires, Schoenfeld, and Stulberg Competitions. She performs regularly in renowned international venues and festivals such as the Carnegie Hall, Aspen Music Festival, La Jolla Music Society, Herkulessaal in Munich, Schwetzingen SWR Festspiele, Seoul Arts Center and Teatro Colón in Buenos Aires. Jinjoo appears as a soloist with distinguished orchestras around the world such as The Cleveland Orchestra, Orchestre symphonique de Montréal, Deutsche Radio Philharmonic, Seoul Philharmonic, Orquesta Clásica Santa Cecilia de Madrid, and Phoenix Symphony, collaborating with conductors James Gaffigan, Michael Stern, Kent Nagano, Jaime Laredo, and Mathieu Herzog.
Passionate about pedagogy, Jinjoo has taught at some of the most reputable conservatories in the United States such as the Cleveland Institute of Music and Oberlin College and Conservatory. Since 2018, Jinjoo has held the position of Assistant Professor of Violin at the Schulich School of Music at McGill University in Montreal and serves as the Founding Artistic Director of the ENCORE Chamber Music Institute, a summer festival that offers young musicians an experience of true immersion as chamber musicians. Jinjoo's dedication to nurturing the next generation of young musicians stems directly from the influence of her mentors Paul Kantor and Jaime Laredo.
Jinjoo is a consummate recording artist. Her latest album, La Capricieuse (SONY Classical) garnered critical and commercial success in her home country of Korea. Her previous recordings include The Indianapolis Commissions (Azica Label) and Jinjoo Cho (Analekta Label). In 2021, a new Saint-Saëns album is to be released by Naïve Classical with Ensemble Appassionato, conducted by her dear friend Mathieu Herzog. In the upcoming 21-22 Season, Jinjoo's scheduled performances include a subscription concert with the Charlotte Symphony, a solo debut in Paris at La Seine Musicale, and a recital as a featured artist at The Gilmore Festival. Jinjoo published her first book, Would I Shine Someday, in 2021.
Tessa Lark, United States – Silver Medalist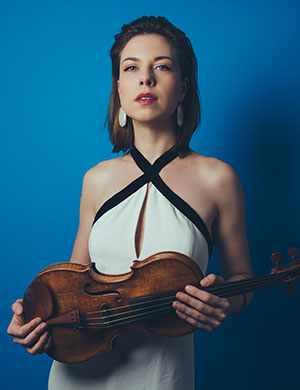 Violinist Tessa Lark is one of the most captivating artistic voices of our time, consistently praised by critics and audiences for her astounding range of sounds, technical agility, and musical elegance. In 2020 she was nominated for a GRAMMY in the Best Classical Instrumental Solo category and received one of Lincoln Center's prestigious Emerging Artist Awards: the special Hunt Family Award. Other recent honors include a 2018 Borletti-Buitoni Trust Fellowship and a 2016 Avery Fisher Career Grant, Silver Medalist in the 9th Quadrennial International Violin Competition of Indianapolis, and winner of the 2012 Naumburg International Violin Competition. A budding superstar in the classical realm, she is also a highly acclaimed fiddler in the tradition of her native Kentucky, delighting audiences with programming that includes Appalachian and bluegrass music and inspiring composers to write for her.
Ms. Lark has been a featured soloist at numerous U.S. orchestras, recital venues, and festivals since making her concerto debut with the Cincinnati Symphony Orchestra at age sixteen. She performed at Carnegie Hall's Weill Recital Hall in 2017 on Carnegie's Distinctive Debuts series, and again the following year as part of APAP's Young Performers Career Advancement showcase. Ms. Lark has appeared with the Louisville Orchestra and the Buffalo Philharmonic; the Albany, Indianapolis, Knoxville and Seattle symphonies, and at such venues as New York's Lincoln Center, Amsterdam's Concertgebouw, the Music Center at Strathmore, the Isabella Stewart Gardner Museum in Boston, San Francisco Performances, Ravinia, the Seattle Chamber Music Society, Australia's Musica Viva Festival, and the Marlboro, Mostly Mozart, Bridgehampton, and Music@Menlo festivals.
Her 2019-20 season included debuts with the Royal Scottish National Orchestra, the Philadelphia Chamber Music Society, the Rochester Philharmonic Orchestra, the Erie Philharmonic, and the Delaware, Pasadena, Springfield (MO), Topeka, Tucson, and West Virginia symphony orchestras. Highlights for 2020-21 include online appearances with Cal Performances, the La Jolla Music Festival, the Seattle Chamber Music Society, Caramoor, Musical Masterworks, and Clarion Concerts, as well as debuts with Friends of Chamber Music (Denver), the West Michigan Symphony Orchestra, and the Heartland Festival Orchestra.
Three recordings featuring Ms. Lark were released in 2019: Fantasy, an album on the First Hand Records label that includes fantasias by Schubert, Telemann and Fritz Kreisler, Ravel's Tzigane, and Ms. Lark's own Appalachian Fantasy; SKY, a GRAMMY-nominated Albany Symphony Orchestra release whose title selection is a bluegrass-inspired violin concerto written for her by Michael Torke that she premiered with the ASO in January 2019; and Invention, a debut album of the violin-bass duo Tessa Lark & Michael Thurber that comprises arrangements of Two-Part Inventions by J.S. Bach along with non-classical original compositions by Ms. Lark, Mr. Thurber, and Eddie Barbash.
A fourth recording, The Stradgrass Sessions, will be released in early 2021. It includes collaborations with composer-performers Jon Batiste, Edgar Meyer, Michael Cleveland, and Sierra Hull; works by Bartók and Ysaÿe; and the premier recording of John Corigliano's solo violin composition STOMP. 
A passionate chamber musician, Ms. Lark has toured with Musicians from Marlboro and musicians from Ravinia's Steans Music Institute. In 2012 her piano trio, the Namirovsky-Lark-Pae Trio (then known as Trio Modêtre), was awarded one of the top prizes in the Fischoff National Chamber Music Competition, and in 2020 the ensemble's debut recording was honored with the German Record Critics' Award in the Chamber Music category. Ms. Lark's musical collaborators have included Mitsuko Uchida, Itzhak Perlman, Miriam Fried, Donald Weilerstein, Pamela Frank, Kim Kashkashian, Peter Wiley, Ralph Kirshbaum, Mark O'Connor, and Edgar Meyer. 
Keeping in touch with her Kentucky roots, Ms. Lark performs bluegrass and Appalachian music regularly and collaborated with Mark O'Connor on his album MOC4. She also plays jazz violin, most recently performing with the Juilliard Jazz Ensemble at Dizzy's Club Coca Cola in New York City. She premiered her own Appalachian Fantasy as part of her Distinctive Debuts recital at Carnegie Hall, where she also gave the world premiere of Michael Torke's Spoon Bread, written specifically for her stylistic capabilities.
Ms. Lark is an alumna of NPR's From the Top, the premier radio showcase for the nation's most talented young musicians, and is serving as Co-Host/Creative for the show's 2020-21 season.
Her primary mentors include Cathy McGlasson, Kurt Sassmannshaus, Miriam Fried, and Lucy Chapman. She is a graduate of New England Conservatory and completed her Artist Diploma at The Juilliard School, where she studied with Sylvia Rosenberg, Ida Kavafian, and Daniel Phillips. Ms. Lark plays a ca. 1600 G.P. Maggini violin on loan from an anonymous donor through the Stradivari Society of Chicago.
Ji Young Lim, South Korea – Bronze Medalist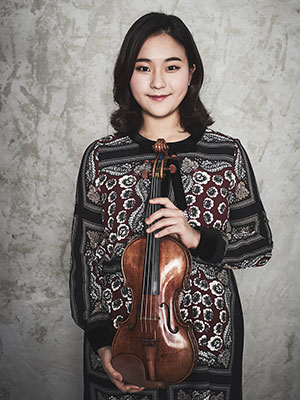 Ji-Young Lim has become a star since she won the first prize of Queen Elisabeth Competition 2015. In 2014, she won the bronze medal in the 2014 International Violin Competition of Indianapolis and received the 'Best Performance of a Mozart Sonata' prize. Even before these, she has already acknowledged her brilliant talents and fruitful musicality by many domestic and international competitions and festivals.
Ji-Young Lim started to play the violin when she was seven years old. She studied at Korea National Institute for the Gifted in Arts and has continued her study with Nam Yun Kim at the Korea National University of Art; now she continues further study at the Kronberg Academy in Germany. With this outstanding achievement, she received Kumho Musician Award from the Kumho Asiana Cultural Foundation and New Artists Prize from Daewon Cultural Foundation as well.
Ji-Young Lim has performed with orchestras such as the Orchestra Philharmonique Royal de Liege, Brussels Philharmonic, Royal Philharmonic Orchestra, Munich Chamber Orchestra, Wuhan Symphony Orchestra, NHK Symphony Orchestra , Philharmonic Orchestra of Minas Gerais, L'Orchestra National Du Capitole de Toulouse, Taipei Symphony Orchestra, Poznań Philharmonic Orchestra, Symphonic Orchestra of the Mariinsky Theatre, Luxembourg Philharmonie, Seoul Philharmonic Orchestra, Nagoya Philharmonic Orchestra, and the KBS Symphony Orchestra among others. She has been invited to many popular festivals and concert series, such as HongKong Arts Festival, Copenhagen Summer Festival, Gstaad Menuhin Festival, Great Mountains Music Festival, etc.
Ji-Young Lim performed at the concert hosted by the King of Belgium during his visit to Korea, and played as an artist representing Republic of Korea at the first anniversary of the Panmunjeom Declaration.
Since 2015, she has played the Stradivarius "Huggins, 1708", which is a four-year special loan for the winner of the Queen Elisabeth Concours, and she has been chosen as the recipient for Stradivari "Sasserno" which was made in 1717 after Huggins.
Dami Kim, South Korea – Fourth Place Laureate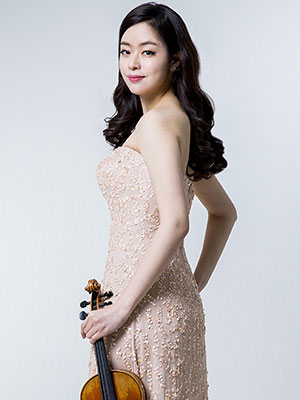 The recipient of a number of awards and honors, violinist Dami Kim won first prize in the 2012 Hannover Joseph Joachim International Competition in Germany, where she received a G.B. Guadagnini violin and a CD recording contract with Naxos as a part of the prize. She is a Laureate of both the 2014 Indianapolis Violin Competition in the United States, where she received 'Best Performance of a Classical Concerto' and 'Best Performance of a Beethoven Sonata' prizes, and is a Laureate of the 2012 Queen Elisabeth International Competition in Belgium. She received 2nd prize (no 1st prize awarded) from the 2010 53rd Premio Paganini Competition in Italy, where she was also given the 'Barbieri Special Prize' for the best interpretation of Paganini Capricci, and the 'Ruminelli Special prize' to the best placed finalist. She has won first prize in the 2011 3rd Munetsugu Angel Violin International Competition in Japan, where she acquired the chance to use the Stradivarius "Rainville" violin for 2 years. She also received several prizes in various competitions worldwide, including the 2010 Sendai International Competition in Japan, the 2009 Michael Hill Violin International Competition in New Zealand, second prize in the 2006 Johansen International Competition in the U.S., and the 2004 Greenfield Philadelphia Orchestra Competition.
Kim gave recitals and has appeared as a soloist with various orchestras throughout Europe, America and Asia, including her successful debut recital in the 2015 Swiss Lucerne Festival, and a performance with the NDR Philharmonie in Hannover, Germany with Maestro Manze. The various orchestras with which she has appeared include the Philadelphia Orchestra, the Tokyo Philharmonic Orchestra, the Macau Orchestra, Orchestra Royal de Chambre de Wallonie, the National Orchestra of Belgium, the Munich Chamber Orchestra, the Seoul Philharmonic Orchestra, the KBS Orchestra, the Wuhan Philharmonic Orchestra, the Sendai Philharmonic Orchestra, the Thailand Royal Philharmonic Orchestra, and many others throughout the world. 
Kim recently began a new position as a professor at Seoul National University.
YooJin Jang, South Korea – Fifth Place Laureate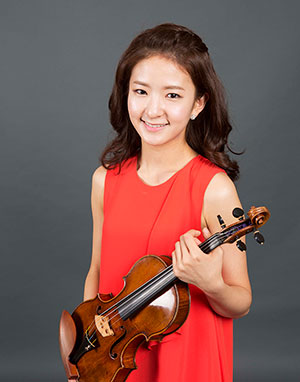 Applauded by The Strad for her "fiery virtuosity" and "consummate performances," violinist YooJin Jang is a winner of the 2017 Concert Artists Guild Competition and First Prize winner of the 2016 Sendai International Music Competition in Japan. These two victories have resulted in a busy itinerary of international recital and concerto engagements and also the release of two new recordings for the rising young talent lauded by the Boston Musical Intelligencer as being "a performer without fear or technical limitation." 
Recent concerto performances include appearances with the Columbus Symphony playing the Brahms Violin Concerto and with the symphony orchestras of Chautauqua, Dubuque, DuPage, Roswell, and University of Chicago. In recital, highlights include YooJin's Carnegie Hall debut and concerts at Jordan Hall and the Isabella Stewart Gardner Museum in Boston, the Dame Myra Hess Memorial Concert series in Chicago, and Rockefeller University in New York City. A passionate chamber musician, YooJin has performed with Caramoor's Rising Stars and toured with Musicians from Ravinia's Steans Music Institute and Musicians From Marlboro. 
Internationally, YooJin has performed with her native country's KBS Symphony Orchestra and Seoul Philharmonic Orchestra, as well as with the Budapest Festival Orchestra (led by Ivan Fischer), Bulgaria National Radio Symphony Orchestra, Sofia Philharmonia Orchestra, Erato Ensemble, Tokyo Symphony Orchestra, Osaka Symphony Orchestra, and Spain's Extremadura Orchestra; and recitals in Japan for the Sendai Competition Winner's series in Sendai, Nagoya and at Hamarikyu Asahi Hall in Tokyo. 
In 2017, YooJin released two albums: live performances of the Mendelssohn and Stravinsky Violin Concertos with the Sendai Philharmonic Orchestra and Junichi Hirokami, and a recital disc featuring music of Mendelssohn, Stravinsky, Grieg and Sibelius with pianist Kae Ozawa. Her first album, Korean Young Musicians, was released on the KBS (Korean Broadcast System) label, in cooperation with Aulos media & KBS Classic FM. She is also regularly heard on the radio, including a recent appearance on WQXR's McGraw Hill Young Artists Showcase. 
YooJin's latest victories at CAG and Sendai follow a long line of international competition success. In 2013, she won Japan's 4th International Munetsugu Violin Competition, which included the loan of the 1697 'Rainville' Stradivari violin. She was also a top prize winner at the prestigious International Violin Competition of Indianapolis, the Michael Hill International Violin Competition (including the Audience Prize and Best Performance of the New Zealand Commission Work), and the Yehudi Menuhin Competition. 
YooJin is also a co-founder of The Kallaci String Quartet, which made its international debut at the Kumho Art Hall in Seoul, Korea and the Seoul Spring Festival of Chamber Music. Recognized for her creative work in chamber music, she won the 2011 Borromeo String Quartet Guest Artist Award, and in 2009 she was awarded the Schloss Weikersheim Scholarship as part of the London String Quartet Competition. YooJin has also participated in the Marlboro and Ravinia Festivals, where she worked with artists such as Menahem Pressler, Dénes Várjon and Peter Wiley.
Jiyoon Lee, South Korea – Sixth Place Laureate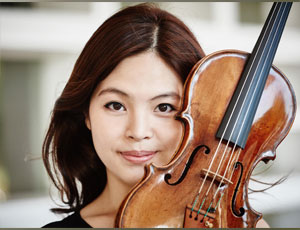 First concertmaster of Staatskapelle Berlin, Jiyoon Lee is rapidly building an international reputation as an emerging young artist, winning praise for her brilliant virtuosity and passionate performances which the BBC Music Magazine called "full-toned, consistent and energetic playing" and the New York Times described as "deeply personal solo with juicy tone." 
She is the recent first prize winner of the Carl Nielsen International Violin Competition. Her success has been preceded by numerous awards, including the first prize in David Oistrakh competition in 2013 and the Windsor String Competition in 2015.
Jiyoon Lee is an aspiring soloist, performing with renowned orchestras such as the Philharmonia Orchestra, Orchestre National de Belgique, Orquesta de Valencia, Swedish Chamber Orchestra, Odense, Indianapolis, KBS and Korean Symphony Orchestra, and the philharmonic orchestras of Poznań, Seoul and Gyeonggi. 
Highlights of her recent and forthcoming performances include concerto debut with Staatskapelle Berlin under Daniel Barenboim and solo recital in Pierre Boulez Hall in Berlin, followed by engagements with the Estonian National Symphony Orchestra, Brno Philharmonic Orchestra, Slovak Philharmonic Orchestra, Incheon and Gyeonggi philharmonic orchestras.
In 2018, her debut recording of the Korngold and Nielsen concertos has met much critical acclaim, earning five-star reviews and simultaneously named 'Editor's Choice' on BBC Music Magazine as well as in Gramophone Magazine. Her following album titled Mythes featuring duo works by Szymanowski, Bartók, Stravinsky and Ravel was described on Gramophone Magazine as "another fine disc from Lee that consolidates her growing reputation and marks her out as an artist to watch in the future." 
Also a devoted chamber musician, Jiyoon regularly participates in music festivals across the world including the Verbier, Tanglewood, Kronberg and Hamburg chamber music festivals. Furthermore, she appears in numerous concerts as part of the Boulez Ensemble with artists such as Sir Antonio Pappano, Francois-Xavier Roth, Jörg Widmann and Daniel Barenboim.
Born in 1992 in Seoul, her career as a violinist commenced at the age of four. She studied at the Korean National University of Arts and with violinist Kolja Blacher at Hochschule für Musik "Hanns Eisler" in Berlin.
Jiyoon Lee plays on a beautiful C. F. Landolfi, kindly on a loan from Deutsche Stiftung Musikleben in Hamburg.