POSTPONED
Behind the Scenes of Music by Black Composers:
A Guided Tour with Rachel Barton Pine
Tuesday, September 13, 2022 | 8 PM
Eugene and Marilyn Glick Indiana History Center
Frank and Katrina Basile Theater Rachel Barton Pine regrets that she has had to postpone her upcoming appearance at the International Violin Competition of Indianapolis where she was scheduled to lead a masterclass and give a presentation on Music by Black composers. The events will be rescheduled to occur later this season.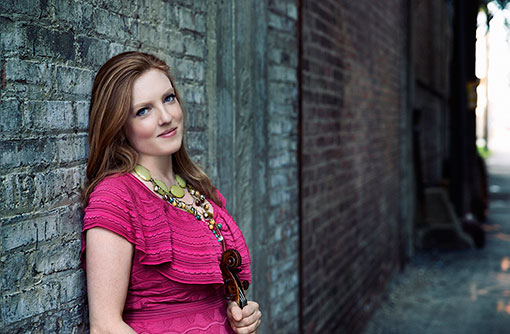 Equity and diversity in classical music start with the music on the stand.
Join internationally renowned violinist Rachel Barton Pine in a celebration of Black classical composers who have created masterful music for centuries, yet are underrepresented in concert programming and in classical music education. Pine will discuss how her Rachel Barton Pine (RBP) Foundation's Music by Black Composers (MBC) project works to rectify historic and ongoing racial injustices in the classical music sphere.
Over the last 20 years, Pine and MBC have collected more than 900 works by 450+ Black composers from the 18th to the 21st centuries, representing Africa, North and South America, Asia, the Caribbean, Europe, and Oceania. Pine will share the free resources that the RBP Foundation has set up to encourage awareness of, access to, and the programming and performance of the music of Black classical composers. She will also highlight two MBC publications dedicated to helping change the face of classical music and its canon: MBC Violin Volume I, the first pedagogical book of classical works by Black composers for students, and The Rachel Barton Pine Foundation Coloring Book of Black Composers.
FREE TO THE PUBLIC